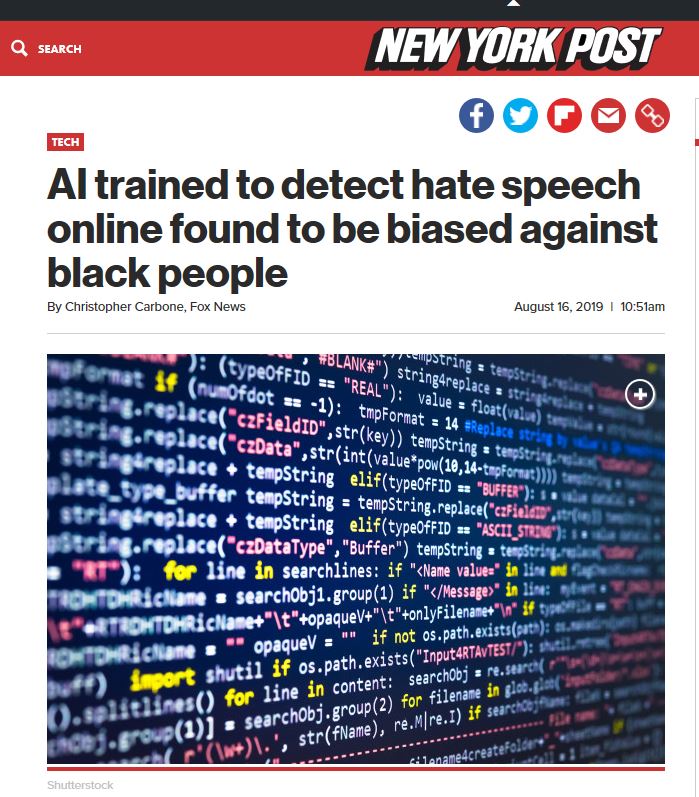 Researchers in one study discovered that leading AI models for processing hate speech were one and a half times more likely to flag tweets as offensive or hateful when they were written by African-Americans and 2.2 times more likely to flag those written in the variation known as African-American English — commonly used by black people in the US.

The second study found racial bias against African-Americans' speech in five academic data sets for studying hate speech. The sets included some 155,000 Twitter posts.

…

Some words that are considered slurs in most settings, such as the N-word, may not be in others. As of now, most machine learning systems can't parse this type of nuance.
AI trained to detect hate speech online found to be biased against black people
While enjoying my cup of Schadenfreude, I cannot think but how beautiful the chickens look when they come home to roost. First they establish that one race in particular can use a word freely but if the rest of the world uses it, then it is the worst of insults and people who use it are racist maggots. And when the ultimate in technology is used to finally do a mind control and silence the wrongthinkers, the machine actually attacks the protected group.
Irony, Thy is Beautiful to I.
Hat Tip Robert E.