A young man, Peter Mielke, 19, was an employee at a pizza parlor in Bellaire, Texas, and was shot and killed during an armed robbery.  The news report says that Peter complied with the robbers demand for money and then was shot multiple times.  The murderer's identity is as of yet unknown and police are asking for help from anybody that might know something about the crime.
This is a sad story.
Moms Demand Action managed to make it worse.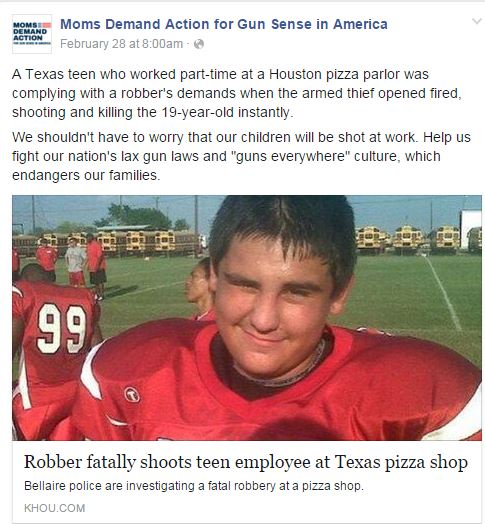 "Help us fight our nationa's lax gun laws and 'guns everywhere' culture, which endangers our families."
Um… WTF!?!  When MDA screeches about "guns everywhere culture" they are usually talking about concealed carry.  Even when ranting about open carry in Texas, that still requires the carrier to have a permit, which in the state of Texas involves a fingerprint background check.  So it MDA going out on the limb that the murderer who robbed a pizza parlor was a CCW permit holder?  Color me skeptical on that one.
I don't think Texas' lax gun laws or "guns everywhere culture" are responsible for this one.  Why?  Because New York City has some of the toughest gun laws on the books and virtually no concealed carry, yet a quick search of the NYC CBS local news shows that armed robbery is a pretty common occurrence there.
This murder isn't the product of Texas' love of guns.  This is the result of a bad guy engaged in criminal activity.  If there is a culture responsible for this, isn't not the one where loving families go to the range and target shoot together.