You have to love knee-jerk reactions coming out of the Opposition: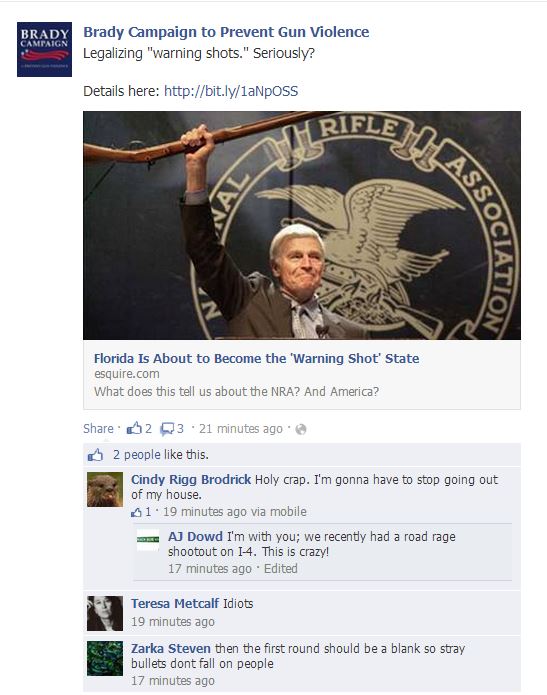 The article they mention is from our favorite Anti-Gun Gome Pyle, Lt. Col. Robert Bateman. As usual he does not make a whole lot of sense and raves up and down so I will save you the effort and say he does not like the law, the NRA, you, me and probably Moon Pies either.
At the Florida Legislature, both houses have versions of the Defensive Display of a Firearm on their desks. It simply states that you can display your gun without having to shoot the criminal to stop a forcible felony instead of being sent to prison for it.  This law is basically intended to curb idiotic and anti-gun prosecutors from filing charges on obvious cases where a bit of common sense indicates that having nobody bleeding is a much better choice than having to call the morgue truck. But it seems this obvious detail is hard to process for a Gun Control Advocate.
And as usual, the comment pouring out of the Brady followers are enlightening on their own. Apparently the idea that a warning shot must be done vertically and up is firmly planted in their heads…. must be prime time TV and all those action movies they swear they never watch:
Carolyn Purdue and install a bullet-proof roof on your house. What goes up must come down…somewhere.
Dear Oscillating Mother Of Petunia…. what a bunch of idiots.