Not gonna go into the shooter and his sick mind since it is too early and frankly the news are so full of crap with the "experts". Instead I want to talk about what I heard live coming from the police thanks to the new technologies we have available for peanuts.
By the time I heard about the incident, the suspect was already barricaded inside the clinic and the police had the place surrounded. In my Windows Phone, I have one app called Police Scanner 5.0 by M768 and allowed me to connect to the Colorado Springs police radio and listen in what was really happening instead of whatever idiotic pabulum was being told on TV. What in years past required a particular piece of over-sized equipment was now a small set of code lines that you can get for under five bucks.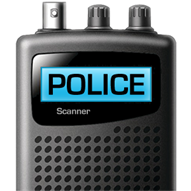 First, when you hear the word "standoff" it gives you the impression of nobody doing squat and waiting for the other party to act first. What was coming out of the scanner was just the opposite: Police were very much acting and planning and watching the place. If anything, you can call it  calculated & choreographed chaos with the unified drive to save lives. Requests for equipment to be brought and strategically placed where it could be the most use to the best people were obvious to the listener. One not so obvious and one I admit it took me longer to figure out was how many times the "forward observers" were asked the location of hostages in relationship to the shooter who was barricaded in a room by himself. It dawned on me that everybody was being not only very carefully and making sure they had the right info, but also that everybody else had that info at hand from the sources. And there were no "short" versions of the same info but always a concise explanation without taking too much time.
Police had eyes on the shooter. My guess is the room where the idiot (Robert Lewis Dear AKA The Asshole) was barricaded had a surveillance camera inside and CSPD had tapped to it. Police were also in contact with a room where 5 hostages were hiding, keeping them calm and prepping them for extraction. Some other officers were going from office to office, very "Ninja-style" (very slowly and carefully) making sure they were empty or if some hostage was inside, taking care and time to pull them to safety. And all this time, information kept flowing back and forth between the door kickers and the planners who at one point were thinking of popping Robert Lewis Dear (AKA The Asshole) through the door since he was standing right behind it. The risks of hitting the hostages at a next door office killed that idea, hostage safety was supreme.
There was a moment of panic when outside information came that there were 5 more hostages unaccounted for and the LEOs were crazy trying to figure out where they could be. After a while, the wondering was over which I imagine meant that it was crossed wires and somebody did not get the updated list.
And in a funny moment, after Robert Lewis Dear (AKA The Asshole) surrendered and was in custody, the cops needed a bullhorn to address the hostages inside, still ensconced in their locations and waiting for instructions. After all the hostage movies we have seen where a bullhorn is always present even before the negotiator, it was kind of fun to hear "Hey! Anybody's got a bullhorn?" "I think I may have one in my car" which was parked on the other side of hell, probably. Reality wins again and the "need" bullhorn is another Hollywood myth.
After the event was over, I went to the TV to see what was being said, and there were the "experts" vomiting what passes for knowledge, so I switched channels and git some infomercial about electronic pressure cookers which had more depth.
So, to all LEOs involved in this case, a big round of applause and my condolences for the death of Officer Garrett Swasey. If anything, your professionalism today serves as tribute to his service and sacrifice.