Sean Sorrentino found this one: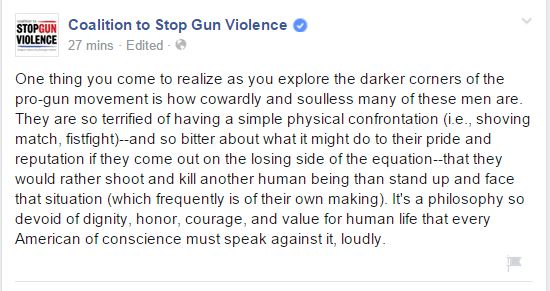 One thing you come to realize as you explore the darker corners of the pro-gun movement is how cowardly and soulless many of these men are. They are so terrified of having a simple physical confrontation (i.e., shoving match, fistfight)–and so bitter about what it might do to their pride and reputation if they come out on the losing side of the equation–that they would rather shoot and kill another human being than stand up and face that situation (which frequently is of their own making). It's a philosophy so devoid of dignity, honor, courage, and value for human life that every American of conscience must speak against it, loudly.
I had warned earlier in the year that Gun Control groups would start to ratchet up the rhetoric because they were feeling not only not advancing but actually losing ground in great swaths. Here is a great example of that.
Cowardly, soulless, terrified, bitter, devoid of dignity, honor, courage and value for human life.
Could they lay it any thicker? But dehumanizing the target of your attacks is a well-known and traditional method of political attack, so it should not surprise us: If you are perceived as less than human, the act of killing you becomes more palatable and easier to accept by your followers.
They are no longer humans like you but Jews. They don't feel love because they are Tutsi. They don't worry about the same every day things because they are  Armenians.  They don't feel pain because they are Croats. And because of all of the above, they all were killed without remorse.
I think it is Donna who chides me for paying too much attention to CSGV, but I do believe they are ounce per ounce the most dangerous Gun Control organization out there. And I don't mean it in the political-power sense but that they are deranged enough to pull some seriously idiotic stunt that would get people killed (like their latest call for SAWTting people legally carrying guns) and then try to validate their belief system. Yes, belief system because I am not kidding when I call them a Cult.
.And for the "They are so terrified of having a simple physical confrontation," there is no such thing in real life. Only in the movies.
Thanks to Sean for letting me run with this latest stupidity from the Cult Coalition to Stop Gun Rights Violence.