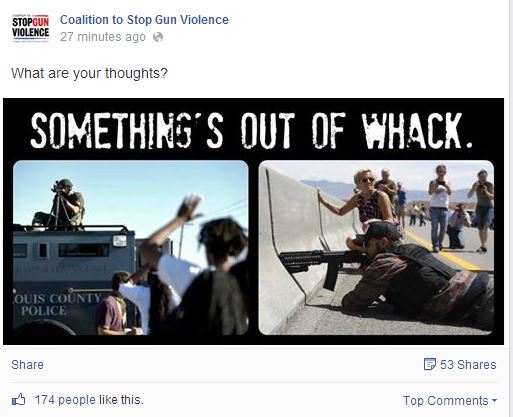 It has become a joke. Trying to do their civic duty Social Justice Warriors and criticizing the events in Ferguson while somehow in their twisted little minds make them look as it was the Bundy Ranch all over is putting a strain on its followers.
The comments go from "send the Ferguson cops to the Bundy Ranch" to "they are all the same" to heavy use of the race card and blaming White Privilege to shove the White Privilege up to a body cavity to all being an NRA conspiracy to sell more guns to …. oh hell, they are all over the place. The link is provided, you go on and have fun.
In other news, the insertion of an NRA operative as Social Media Coordinator for CSGV has been successful <snicker>
WAIT ONE! I just happened to notice they issued a official statement which is as funny as you could imagine.