From an article in Forbes about Amazon removing The Liberator 3D Code book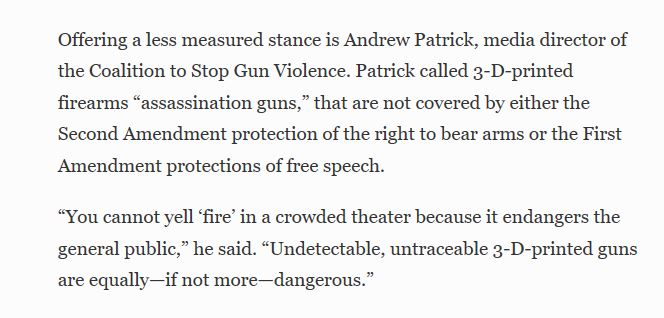 First of all, you cannot falsely yell "FIRE" in a theater. Actually it would be morally low to see fire and leave without issue a warning which I'd believe the morons at CSGV would do if there was a profit for them.  But since Mr. Patrick bring the fire issue, in another article I foolishly forgot to save, mentions that one of the books still being offered for sale at Amazon is Unconventional Warfare Devices and Techniques: Incendiaries Tm 31-201-1.  (You can download a copy in PDF here.)
I bring that manual because the biggest mass killing in the US apart from 9-11 were arsons being the most simple #3, The Happy Land Social Club in 1990 killing 87 people with a dollar's worth of gasoline. Now imagine what would happen if a dedicated predator would use the details found in the book above to commit arson in a public gathering.
But for both Amazon and CSGV a bunch of pages with nothing but codes is the equivalent as the apocalypse or something. Books with detailed instructions on how to kill and maim are OK.
As always, you can download the 3D blueprints at CodeIsFreeSpeech.com or in a myriad of other locations like this here.