It is a beautiful thing when their true color shine through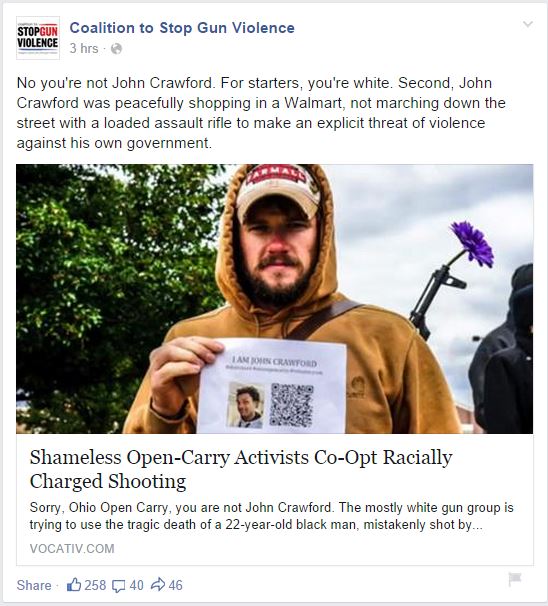 For those aligned on the "We Don't See Color" athletic club, CSGV have no problem being racist.  They are so pissed off they could not jump into the John Crawford killing first that not only they are playing the race card but just tossing whole decks like ninja stars.
I would not be surprised it is damage control. The focus on the killing of John Crawford is now targeted towards Ronald Ritchie who made what seems to be a highly exaggerated in danger 911 call that set up the kill chain that took John Crawford's life.
All of the sudden, all those tweets and Facebook posts from their followers telling others to call police and lie about what a peaceful gun owner  is doing have become political poison. And if charges are ever brought against Ritchie, CSGV and other gun groups are gonna take a wrecking ball to the chin with so many examples of their hate-filled posts screen captured and kept by gun bloggers everywhere.
And they won't be able to hide about not keeping track of what is going on since they are damned good at blocking and banning anybody who is pro-Second Amendment  from their timelines. Basically they are condemned to admit they allowed and maybe even encouraged Hate Speech DeLuxe.
This is gonna be a good one.
PS: I almost forgot about the original article: They are also pissed because in their racism & prejudice, they cannot imagine Pro Gun People standing for a member of minority whose life was cut short without reason. Because, you know, you like guns, you must be a member of the Klan and stuff.
They are sad minds.