Fresh off the Facebook page of the Cult Coalition to Stop Gun Rights Violence: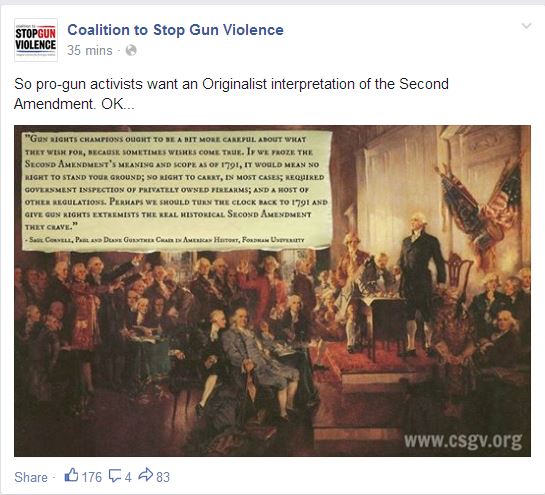 And this is the insert: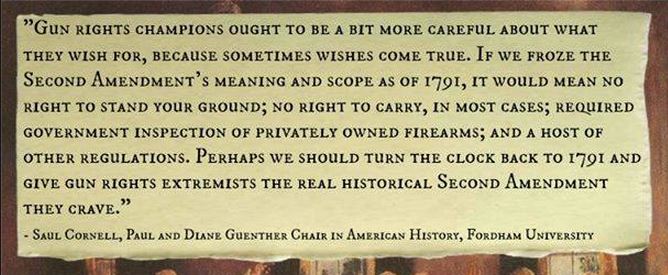 Ever since Michael Belleiles, it has been clear that we cannot separate Higher Education historians from the rest of the College professorial community in their intent of re-writing history for political purposes.  Lying as the vernacular goes.
But what made me laugh is that I am on the last pages of Washington's Spies: The Story of America's First Spy Ring and there s a passage where it mentions that Congress, strapped for cash and in need of having to supply the Continental army with weapons, decided that it would be a good idea to confiscate the guns of the Tories (Pro England inhabitants) living within the Rebel areas and in that way they could kill the bird of supply and at the same time make sure they had antagonistic Loyalists in a relatively docile behavior.  An Army officer was dispatched to start the confiscation of the locals (much to his distaste) and returned shortly with the report that the Tories not only refused to turn in their weapons but that they swore that if they came back again, they would be shot through the head. Congress forego the stupid idea.
I swear that any day now, we are gonna read about a professor swearing up and down about his "research" that showed that only Police and the Military had guns when the Constitution was ratified and that there was a 15 day waiting period with a Background Check and Fingerprints before you could have been issued lead for bullet casting.