Following up on J. Kb.'s post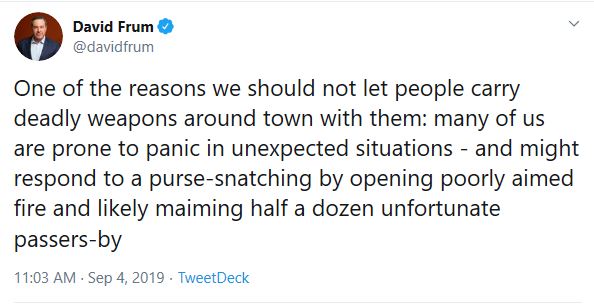 Dear Mr. Frum, allow me to introduce to you the great State of Florida.  We had Concealed Carry for over thirty years now and as of August 31st, a total of 2,042,384 Floridians (with a sprinkle of people from other states) carry concealed weapons with our license. And in those 30+ years we have yet to see an incident similar to what you described.   And boy, Gun Control activists had been looking for that event with the zeal of true believers and struck out miserably.
I am all for recycling, but your argument went stale sometime before the new millennium. And by unearthing the only thing you managed to do was to cover yourself with a stink of dumb because a simple internet search would have provided you with the information I just posted here.
Now I want to give you something to think about if you decided to visit us for vacation: Florida has a population of 21.3 million and 2,042,384 people carrying concealed that makes almost one person in ten with a sidearm. The moment you step out of your hotel or time-share, one of ten people you can see may be carrying a gun.
Did I just ruin your vacation?