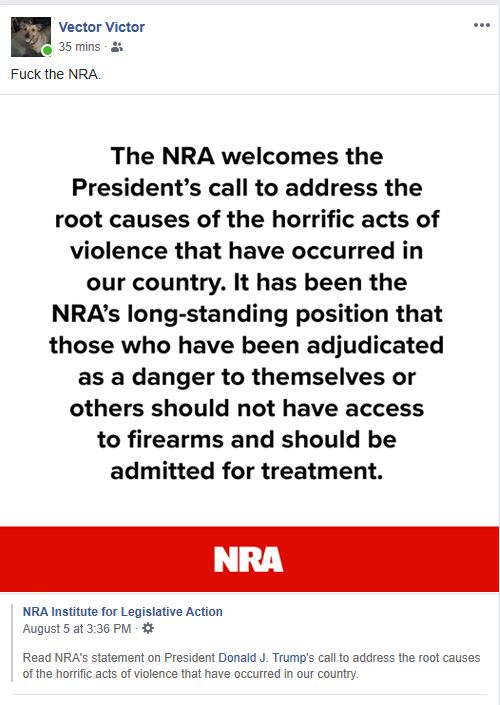 Listen guys. I understand that the cool kids' latest Tide Pod Ingestion is to post "Fuck the NRA" at least 12 times a day in different social media. But please, be careful what you are targeting or you are being as irrational as the Other Side.
The latest red laser dot that has some gun owners jumping all over the furniture is anything that has to do with Red Flag laws. And yes, Red Flag laws suck and must be stopped, but that is not what the NRA-ILA post was about! The ILA is simply stating the truth: That we support keeping the guns away from the people who have been adjudicated mentally incompetent. That means people are restricted only after doctors have seen them and diagnosed a mental problem, the case was taken to a judge and under oath, a case was presented with enough convincing evidence that the person in question needed to be in treatment because he or she are a danger to themselves or to the community.  This is the same position we all had for decades now and it makes sense.
But you come along just to prove you are a part of the Cool Kids and piss on that, then you are giving ammunition to Bloomberg and Co. "See? Even if a battery of doctors say the guy is suicidal and the judge agrees, these Gun nuts want to give them guns so they can kill themselves."
Think before you post.