It's a slow news day, so far, so I'm going to poke fun at Congressman Eric Swalwell again.
This is the sign that an idiot has been in goverment for far too long.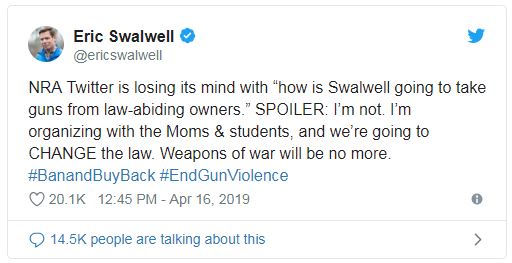 So let's say for just a second that he does get his law passed.
Everything banned in the State of California is now illegal across the country.  Not just for new sale but everything that exists, some 50 million guns, can no longer be in the hands of US citizens.
The ink is dry on President Swalwell's buyback law but no more than 0.5% of Americans takes their guns to the police in exchange for a check.
What happens next?
How exactly does this law get enforced?
The guns don't just go *poof* and blink out of existence.
Police must get warrants to search houses.  They must bring evidence to a judge to get a warrant.  A search must be conducted.  Property seized, and people arrested.
If not, than the "weapons of war" will still continue to exist, buried in yards, hidden in walls, "lost in boating accidents," etc.
Either this guy knows in his heart of hearts that what he is asking for is the homes of tens of millions of Americans to be raided by SWAT teams and courts being backlogged for years with search warrant applications, but that the American people don't want to hear the harsh reality of it on the campaign trail…
Or…
He's a fucking idiot that has no idea how to enforce a massively unpopular law.
Either way, this totally disqualifies him from office.