Congressman Eric Swalwell is a coward.
He is the epitome of the internet tough guy who turns out to be a dickless coward when called out in real life.
Congressman Swalwell is going to make you turn in your assault rifles in some stupid buyback program.  If you don't, he's going to send his stooges to your house and arrest you.  If you put of a fight, he'll nuke you.
What he won't do is get on stage with Dana Loesch and debate her.
Here is a Twitter back-and-forth between Eric Swalwell and Dana Loesch the started because Eric Swalwell decided to channel AOC.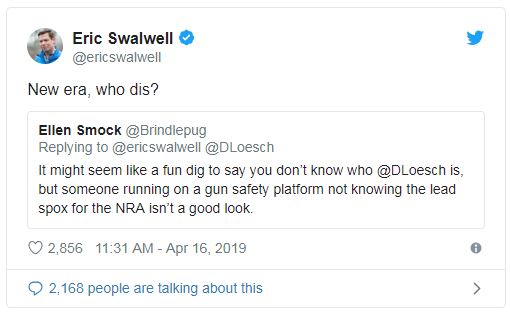 When a sitting member of Congress uses the "New X, who dis?" meme, you know that the point they are going to make is shallow and stupid.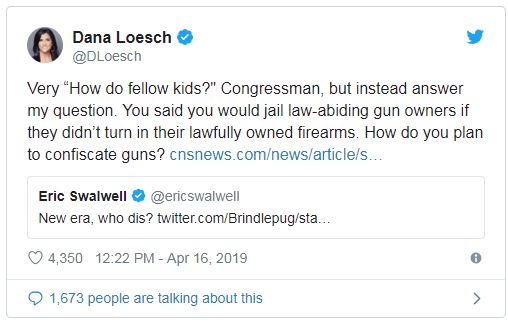 Valid question.  I asked it before when I said Swalwell thought laws are magic.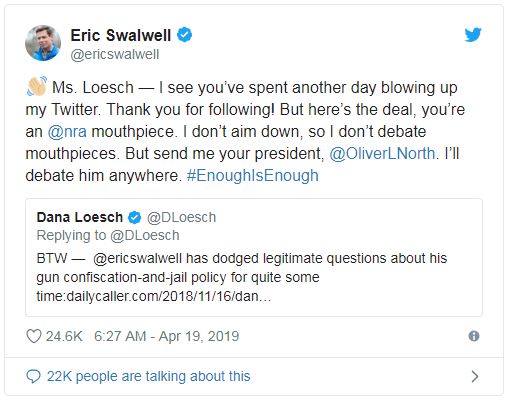 Blwing up = two Tweets, because being a straight white man didn't give him enough victim cred he had to Smollett* some Twitter abuse
*Smollett – verb, to fabricate a incident that makes the fabricator a victim for the purpose of sympathy and reward on social media.
That "I don't aim down" is such horseshit, masquerading his cowardice as virtue.  Dana Loesch is an official NRA spokesperson.  Discussing policy and politics is her job.  Organizations of all types have spokespeople whose job it is to represent the organization's positions publicly.  It is the antithesis of aiming down to debate the very person the organization taps to do the debating.
The like a true internet tough guy, he doubles down.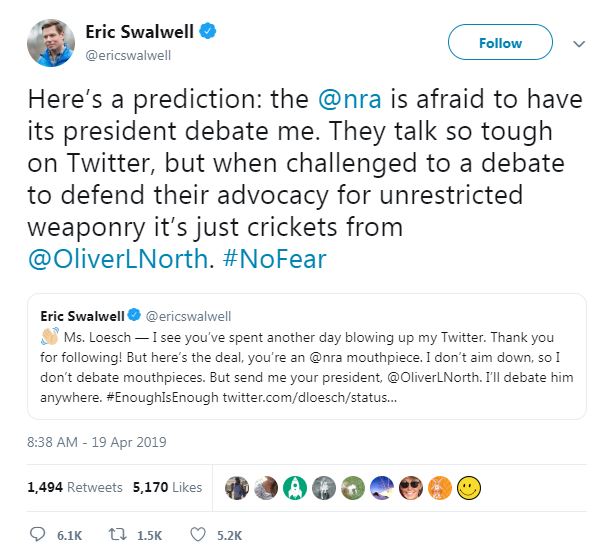 What fucking bullshit.
The President of an organization is chosen for his or her leadership skills.  That is different than debate skills, which is why spokespeople exist.
This is like saying "Adam Silver, Commissioner of the NBA is afraid to play me in one-on-one, and I won't play LeBron James because that's 'aiming down.'"
Also, "unrestricted weaponry?" This guy is allergic to the truth.
Finally, Dana threw down the gauntlet.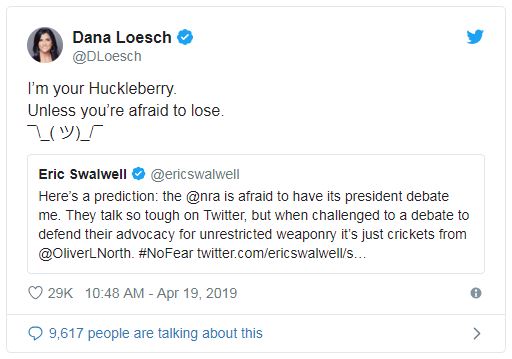 We'll he is.
That's the simple answer.
He wants to make sure a debate never happens because his ideas are the gun grabbing equivalent of the Green New Deal, expensive, unpopular outside the extreme, and absolutely tyrannical.
This is internet tough guy bluster.