And, of course, it had to come from CSGV and its Laddites: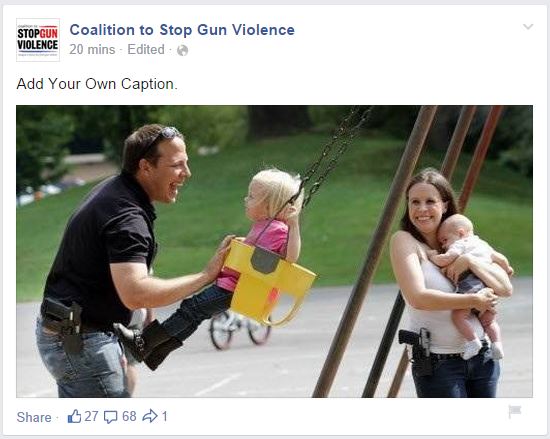 Here are a sample of the captions offered:
Annabelle Massey Malloy Child endangerment.
(Of what)
David T. Kindler Low T male overcompensating for lack of love and security as a child. Afraid his wife will draw down on him first.
(So the wife is compensating for what?)
Mina Nichols When Daddy carries a gun, we get the park to ourselves!
(Child Molesters do tend to stay away)
Max Gordon "No, it's okay to carry guns. We're white!"
(The Race Card. Don't open your mouth without it.)
Len Leyba Call law enforcement immediately. As citizens we have no idea who these two people are and what they want at a children's play area with guns.
(Because SWATting people to Death never gets old)

Sally L. Shockley The family that slays together stays together.
(And yet, no bodies are dropping like flies, no blood running through the park)
Jason Platt You only shoot the ones you love
(Jason sounds like he has done this before.)
Kara Leinfelder Meyer Stupid ass people. Should be required to have a psych test before gun permit – and procreation
(Nothing says open mindedness like a little statism)
Rose Marguerite McDermott Children dead after parents go on shooting rampage in park…..
(Projection much?)
Maité Landa No caption, but as a Latina with biracial daughters, I would not feel "safe" or welcome in that park
(The Capital One Race Card! Double the points!)
Stephen W. Ramsden "even my wife has a tiny penis"
(I really do not want to meet this guy's wife. )
Mariange Marti Berk Berk berk grrrrrr.grrrrrr.
(Your guess is as good as mine)
Mary Lynn Hager If you ask me to push you one more time I am going to blast your head off
(You can feel the love, Can't you?)
There is plenty more where that came for.