So the Coalition to Stop Gun Violence has taken the side of Hillary The Amnesic.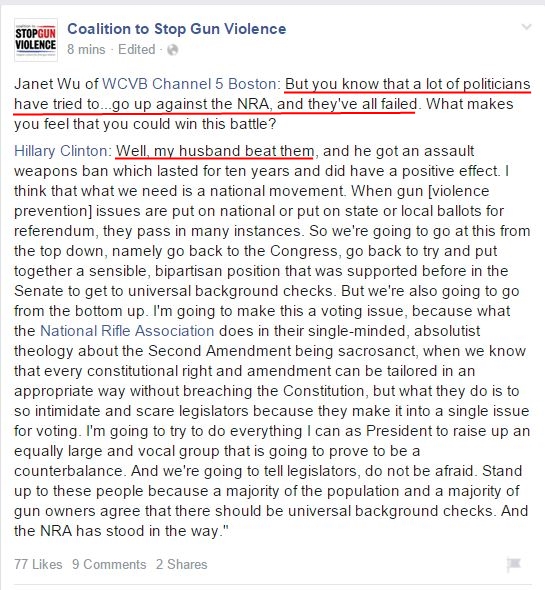 And he beat the NRA so soundly, we elected President Gore in the next election….wait.
"Just before the House vote (on the crime bill), Speaker Tom Foley and majority leader Dick Gephardt had made a last-ditch appeal to me to remove the assault weapons ban from the bill. They argued that many Democrats who represented closely divided districts had already…defied the NRA once on the Brady bill vote. They said that if we made them walk the plank again on the assault weapons ban, the overall bill might not pass, and that if it did, many Democrats who voted for it would not survive the election in November. Jack Brooks, the House Judiciary Committee chairman from Texas, told me the same thing…Jack was convinced that if we didn`t drop the ban, the NRA would beat a lot of Democrats by terrifying gun owners….Foley, Gephardt, and Brooks were right and I was wrong. The price…would be heavy casualties among its defenders." (Pages 611-612)

"On November 8, we got the living daylights beat out of us, losing eight Senate races and fifty-four House seats, the largest defeat for our party since 1946….The NRA had a great night. They beat both Speaker Tom Foley and Jack Brooks, two of the ablest members of Congress, who had warned me this would happen. Foley was the first Speaker to be defeated in more than a century. Jack Brooks had supported the NRA for years and had led the fight against the assault weapons ban in the House, but as chairman of the Judiciary Committee he had voted for the overall crime bill even after the ban was put into it. The NRA was an unforgiving master: one strike and you`re out. The gun lobby claimed to have defeated nineteen of the twenty-four members on its hit list. They did at least that much damage…." (Pages 629-630)

"One Saturday morning, I went to a diner in Manchester full of men who were deer hunters and NRA members. In impromptu remarks, I told them that I knew they had defeated their Democratic congressman, Dick Swett, in 1994 because he voted for the Brady bill and the assault weapons ban. Several of them nodded in agreement." (Page 699)

Bill Clinton. "My Life." Linked from the NRA-ILA page.
"You've got to give it to them, they've done a good job. They've probably had more to do than anyone else in the fact that we didn't win the house this time. And they hurt Al Gore." Clinton during an interview with CBS News on December 18th, 2001.
Maybe Hillary should remember the meaning of Pyrrhic Victory.