I guess they cannot call it "crazy Tea Party" shooter or "Mentally Troubled teen" or even "Workplace Violence" so that might be why it is getting such a poor coverage.
And with that in mind, allow me to say that the fable "Not If but When" has come officially to pass.
Saw this meme around: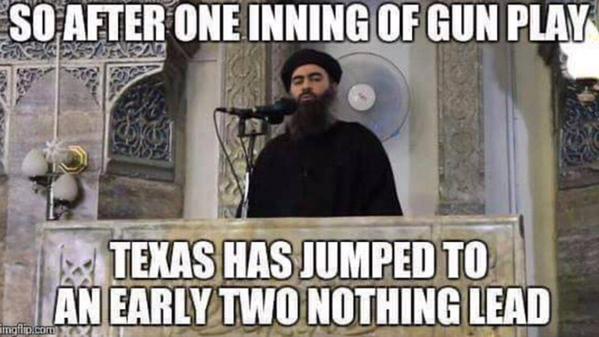 Funny as hell, but also wise: We have several innings to go and they will come back to the plate. We cannot expect they will remain dumb all the time.
Their next target will be researched ahead of time, scouted to look for security and planned to create the biggest amount of killing.  If they happen to get a couple of lone wolf idjits with some brain matter, the only thing they have to do is research mass shooters to get ideas.
Gun Free Zones: Bet you butt. The event in Garland was in a school zone so people were unarmed, but they did hire lots of well armed security, not what usually happens. And speaking of schools,  we cannot dismiss a condensed Beslam-type scenario. Instead a full production with a cast of hundreds, two or three shooters might be used and be very effective. Even schools with Resource Officers will be fair game since usually they only have one who probably will be one of the first ones to go down. Malls in states that GFZ signs have the weight of law, Churches where it is legally forbidden to carry or the religious leaders have chosen to make the House of God a temptation for evil jackasses to come do harm to the flock.
Texas No More: They will seek locations where the chance of armed civilians is low. So, New York, L.A. Boston and states where the gun laws are not citizen-friendly are once again targets.
State Intelligence LEOs should be crapping on their pants by now.  I noticed something interesting: The Garland Shooters were not from Texas but Arizona. They went to a state that probably did not have them in their database and thus expected no specific actions from them. We know that the FBI did have interaction with one of the shooters, but it will be a cold day in the Everglades before the Feds become gratuitous with their intelligence… and I think it might be against the law too. It may be a good idea for State LEO agencies to start a very serious intelligence-sharing process among themselves.
Time to rethink the small 9mm as back up and go back to Full & Medium Size handgun. I had grown fond of my Kahr CW9, but I will revert to my FN with 2 spare mags because boolits. 49 rounds is what we call "a good first step."
Truck (Vehicle) gun. Distance is better, more distance is more better. Not engaging on what brand/model you should get, but just make sure it is a powerful cartridge and that you have the way to properly lock that thing against thefts.
What else is there? What have I missed you think we need to cover? Chime in!