Reader Divemedic provided the link to the text of Zimmerman's Civil Lawsuit. If what is being stated is true, not only $100 million seems little, but some people may need to search for Non-Extradition countries ASAP.
Plaintiff George Zimmerman ("Zimmerman") brings this action against Sybrina Fulton ("Fulton"), Rachel Jeantel ("Jeantel"), Brittany Diamond Eugene ("Eugene"), Tracy Martin ("Tracy Martin"), Benjamin Crump ("Crump"), Bernie de la Rionda ("de la Rionda"), John Guy ("Guy"), Angela Corey ("Corey"), the Florida Department of Law Enforcement ("FDLE"), and the State of Florida ("Florida") in their individual and official capacities where applicable for violations of Zimmerman's constitutional rights under the Florida Constitution, as well as the United States Constitution, as well as the common law, for conspiring to switch and/or cover up the identity of Defendant Eugene who was the real phone witness to the events prior to Trayvon Martin's ("Trayvon Martin") death, by substituting an imposter and fake witness, Defendant Jeantel, and to assist Defendant Jeantel in committing perjury in sworn testimony to cause the arrest, prosecution, and sentencing to life in prison of George Zimmerman, as well as causing a federal investigation and prosecution of Zimmerman for civil rights violations.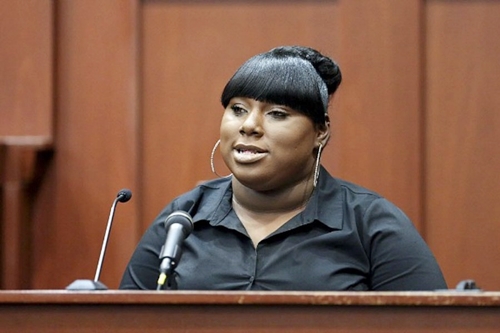 What Zimmerman and his lawyer are saying is that not only Miss "I Can't Read Cursive" was lying on the stand, she was not even the real person who was on the phone with Trayvon but an imposter and that everybody in the  prosecution side of the trial knew it and abetted the… I have no idea what to call this other than major legal fraud.  Maybe an almost successful legal lynching.
Again, if they have the evidence supporting this, there is a caca storm coming to Florida's Justice system and Zimmerman deserves every penny of that lawsuit.