I graduated from a technical college that was a School of Mines.  There used to be several schools of mines in the United States.  Now there are only three left, Colorado School of Mines, South Dakota School of Mines and Technology, and New Mexico Institute of Mining and Technology.
If I ever have enough money to go back to school and get another degree, I am going go to New Mexico Tech and get a Masters in Explosives Engineering in association with the Energetic Materials Research and Testing Center.
I cannot imagine anything cooler than saying "I have an advanced degree in slowing shit up."
But I digress…
Schools of Mines, clearly indicated by their name, are  schools of science and engineering focused on extracting and refining natural resources for human use.  The larger programs at these schools are Mining Engineering, Petroleum Engineering, Metallurgy and Material Science, Chemistry and Chemical Engineering, etc.
I knew quite a few geologists at my time at Mines.
The thing about people who study Geology at a School of Mines is that they have a career in mind.  They want to work for a mine or a oil company.  The scout areas looking for resources.  They map the terrain and plan with the engineers, the best places to dig or drill.  They are an invaluable part of natural resource development.
And they get paid handsomely for it.  Starting salary for a geologist in mining or petroleum is $104,000, and it can go up from there to a solid $250,000.
It's a good job.  Besides the good pay, you are rarely behind a desk.  The mine geologists I know love their jobs.  They spend most of it out in the field with a 4×4 pickup full of equipment, enjoying the fresh air and the sunshine.
So…
South by South West, which goes by SXSW, is a film, music, and media festival that goes for a week in Austin, Texas.  Somehow, it has also become the "in" place for liberal politicians to go to let their stupid all hang out.
One of the Democrats there was Presidential Candidate and former Governor of Colorado, John Hickenlooper.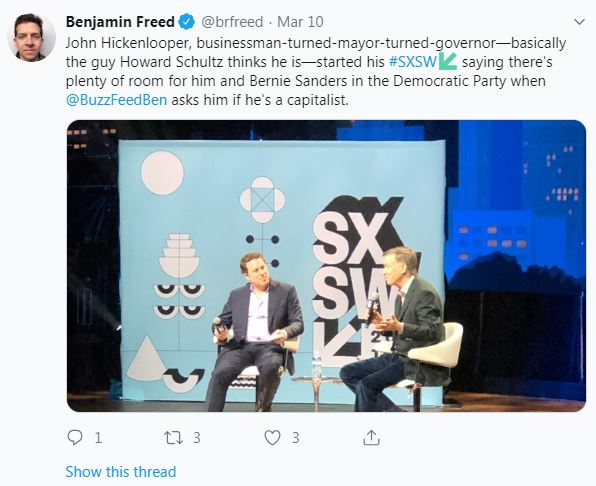 From this take, I gather that Hickenlooper has seen the writing on the wall that capitalists are not allowed in the modern Democrat party and that he as to disavow it to have any room to move up in national politics.
But that is not the worst part.  This is: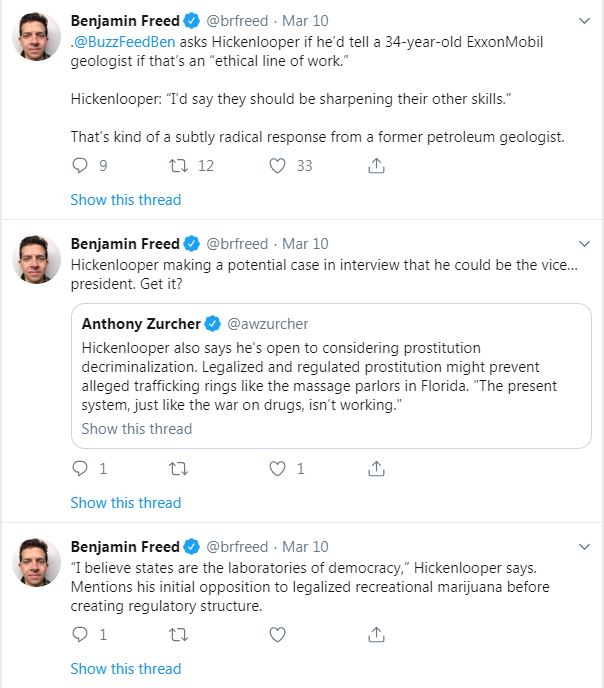 I want to make sure I got this correctly?
A geologist who works for a petroleum company, a guy (or maybe a woman) making in excess of $100,000 per year contributing positively to the economy and America's energy sector is immoral and needs to find a new job.
However, growing and selling recreation marijuana which ends up in the hands of children is not immoral.
Moreover, Hickenlooper wants to legalize brothels, or at least rub-and-tug centers, and that is totally moral too.
Remember not quite two weeks ago, I wrote a post about the importance of  moral guidance in society?
I said this:
A career counselor will tell a high school girl that giving handjobs and blowjobs is just as good a job as waiting tables while working through college and that there is no shame in being a sex worker… 
Well shit if it didn't take 11 days for the Democrats to pivot to the position "it's immoral to earn a STEM degree that is critical to maintaining America's technical infrastructure, do the right thing and become a drug dealer or give handjobs instead."
Just as a technical matter, lets say that the Democrats manage to completely ban the use of petroleum in power generation and transportation, we would still need huge volumes of it for paint, plastics, industrial heating, etc.
Most of the asphalt in the US is refined from petroleum.  Without the oil industry, how are we going to pave roads or cover roofs?  Or is the plan to eliminate those too?
So much of the modern world, including green technology is made possible because of plastics, which are derived from petroleum.  There are some bio-plastics, but right now that technology is limited.  The super tall wind turbines that are most effective in generating power are possible because of light weight aramid and carbon fiber composites, which are all… you guessed it… derived from petroleum.
But forget all that, that's immoral.
What you need to do is get a career in dick sucking, and when that leaves you dead on the inside, miserable and without self respect, there is always some legal marijuana to anesthetize the pain.
Once again, we have a Democrat who read Brave New World and thought it was a "How To" manual.