(CNN) – After finding a gun in a sofa at IKEA, a child fired the loaded weapon in the store, prompting an investigation of the incident.
Earlier that day, a customer at the Fishers, Indiana, store sat down on the couch to test it out, CNN affiliate WTTV reported.
When he got up to keep shopping, he didn't realize his gun had fallen out of his pants.
Later, a group of kids sat down on the sofa and found the gun, Fishers police told WTTV. One of them pulled the trigger and fired a single shot.
Child fires loaded gun found in a couch at IKEA
I am going with crappy holster in the 3 O'clock position or Small of the Back carry with or without holster. And crappy holster could be a very expensive one that simply does not properly secure a gun either by being the wrong model, a generic model or the user screwed with it while "adjusting it."
If you have carried for any amount of time, you should know that sitting is probably one of the most tricky things you can do.  An armchair too close to the body and your holster gets caught.  If you are careful and understand you are carrying a weapon, you will feel it shifting and take appropriate action. But if you are carry a gun like it is a dress accessory, you end up being the idiot that lost his gun at an Ikea.
There is a simple initial test to see if your holster has at least a basic level of normal retention: Place your unloaded sidearm in the holster and turn upside down. If it falls, you have two choices: If it has a way to adjust it (tension screws) do so till the gun remain in the holster when upside down. If it will not secure the gun, get rid of it. Next and with the gun still upside down inside the holster, shake it like you were a maraca player having a fit. Again, if it falls, adjust it or dispose of it. (See the bottom of the post for update)
If you carry outside the waistband, I strongly suggest you do so with a holster that covers the muzzle of your gun.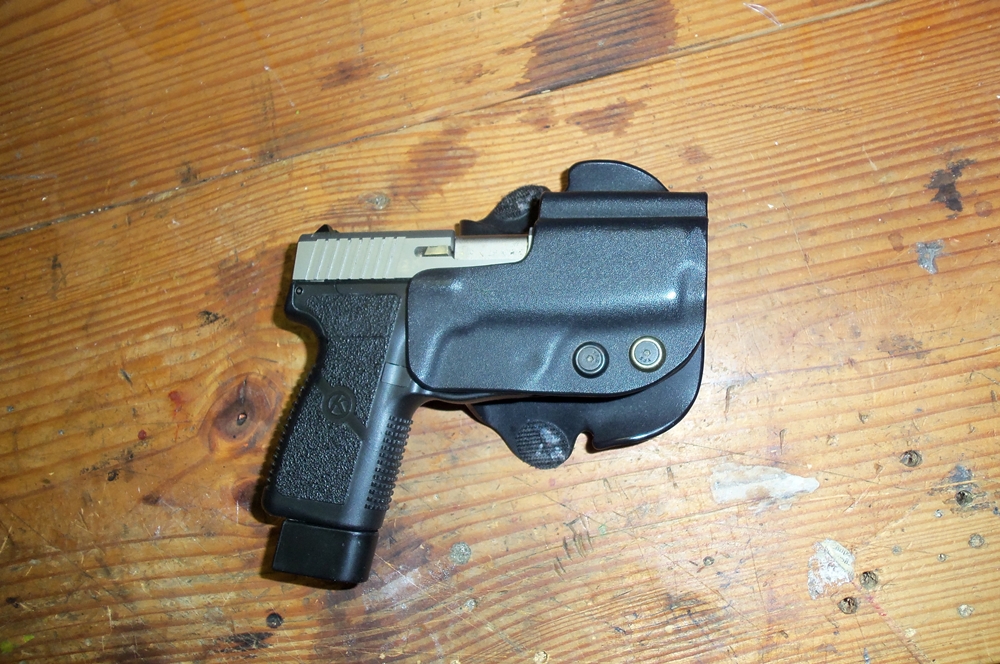 I was a fan of yaqui holsters till the day the arm of a very tight-fitting chair dislodged the gun from the holster. I managed to catch it with my elbow before it went all the way out of the holster, but the lesson was learned. All my carry holsters are Close End.
And I want to go back to Clint Smith's words about carrying: It should be comforting, not comfortable. If you are carrying a gun and you do not feel any kind of feedback allowing you to forget about it, you are bound for trouble.
15-20 years ago, there were few good holster makers and even fewer that understood what was required to safely carry a gun. Today the market is full of offerings with great quality and price, so there is no reason why you should compromise. Invest in a good holster that will keep you from being "the idiot that left a gun at Ikea."
UPDATE: Add this to the upside/down test, that means do both and if the gun falls in any of the cases, DO NOT ATTEMP TO CATCH IT!
Thanks to OldDog
I would suggest a revision to your upside down and shaking it retention test. If you do this with an unloaded gun, the results won't be the same as a loaded one due to the weight difference. Do this test over a bed or couch with at least a loaded magazine to be more accurate.