Cosmopolitan's online magazine had published three anti gun articles yesterday.
Yes, Cosmo.  You know, the deeply intellectual magazine for Women, filled with hard hitting pieces like: How to second guess the status of your relationship, with dolls (apparently my bad back is a psychosomatic manifestation that I don't really love my wife), and Fifteen bullet points to lower your self esteem.
The first is a step-by-step on how you should awkwardly ask your potential boyfriend if he owns a gun and if he's going to use that gun to kill you – because that's what men with guns do to women.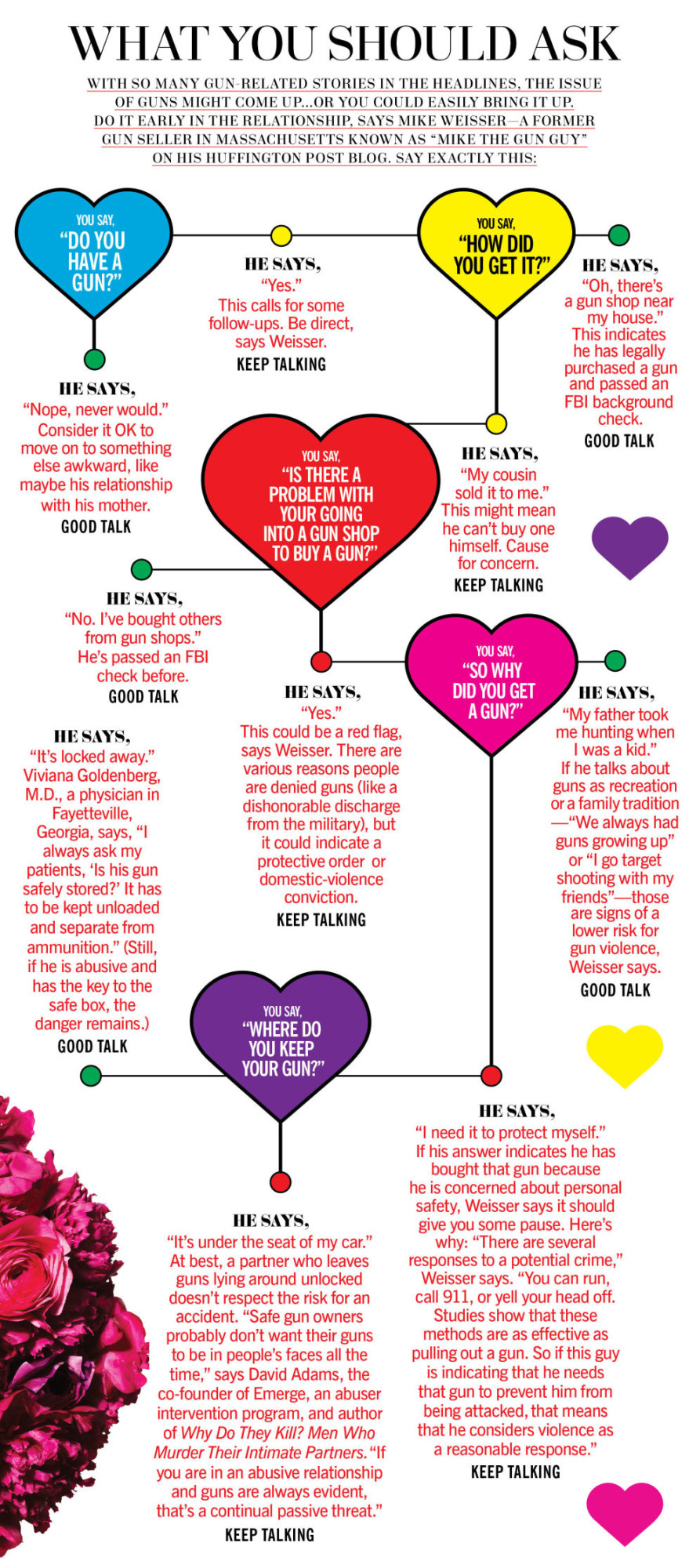 The first article quotes Shannon Watts multiple times:
"It's crucial that single women understand the risk factors and tackle talking directly about the role guns may play in their daily lives," says Watts. "Being armed with the facts isn't anti-gun, it's pro-information. And it may save your life."
"Do you have a gun?  How did you get it? Is there a problem with your going into a gun shop and buying a gun?"
Why not just make your date fill out a Form 4473 before he picks you up for dinner?
"Where do you keep your gun?"
If the answer is other than "it's on my hip right now," why does it matter on a first date?  Or is she going to ask about the state of my smoke alarms and fire extinguishers next?
"'[B]oyfriends are becoming an increasingly large proportion of those who commit intimate-partner homicides,' says Shannon Frattaroli, associate professor at the Johns Hopkins Bloomberg School of Public Health, Center for Gun Policy and Research."
Oh Gee, what an absolutely unbiased source.  The article then devolves into a diatribe on the gun show and private seller "loophole" and more stories about how the "he was such a nice guy" boyfriend buys and gun and murder ensues.
The second is an article, rife with cherry picked data and an accompanying video, to make the case that men who own guns are douche-bag "gunsplainers" who are more likely than not to use their gun to murder their wives and girlfriends.  The video embedded in the second article is straight from Everytown's YouTube channel.
The third is pretty much the 50 Shades of Gray of torture porn with a strong anti-gun bent.
A few days before Valentines, and Cosmo becomes a shill for MDA/Everytown.  The thesis of the THREE articles is "Don't date a guy that owns a gun, if you do, you are probably going to be murdered."  Cosmo presents this as dating advice, that women should bring up the issue of guns on the first date and interrogate their potential boyfriends their gun owning and gun buying history.
I'm pretty sure that if my date was convinced by Cosmo to assume that my gun ownership was a sign that I'm a domestic abuser and gave me the third degree about it over ravioli, that date would be over before I got my unlimited bread sticks refilled.
Then again, what do I know?  I've been with my wife for 12 years and I'm pretty sure I haven't murdered her.  Hold on, lemme check… nope, still not murdered.