Holidays are over, but I give you the last of my holiday's food: Calamari in cream sauce.
The recipe is mom's I have not seen anybody else do it. Everybody is either the batter and deep fry route or if Spanish, they go Garlic and Oil.
I am gonna give you a secret to help you with this dish: Buy already cleaned squid. Whole squid is annoying to clean and a pain in the ass to have the skin removed. We got a 3 pond box of frozen squid and ended up with probably under 2 pounds after cleaning and a case of rage.  I found the clean squid after I bought the regular one and I cried a little. Here is what's supposed to look like all clean and purty.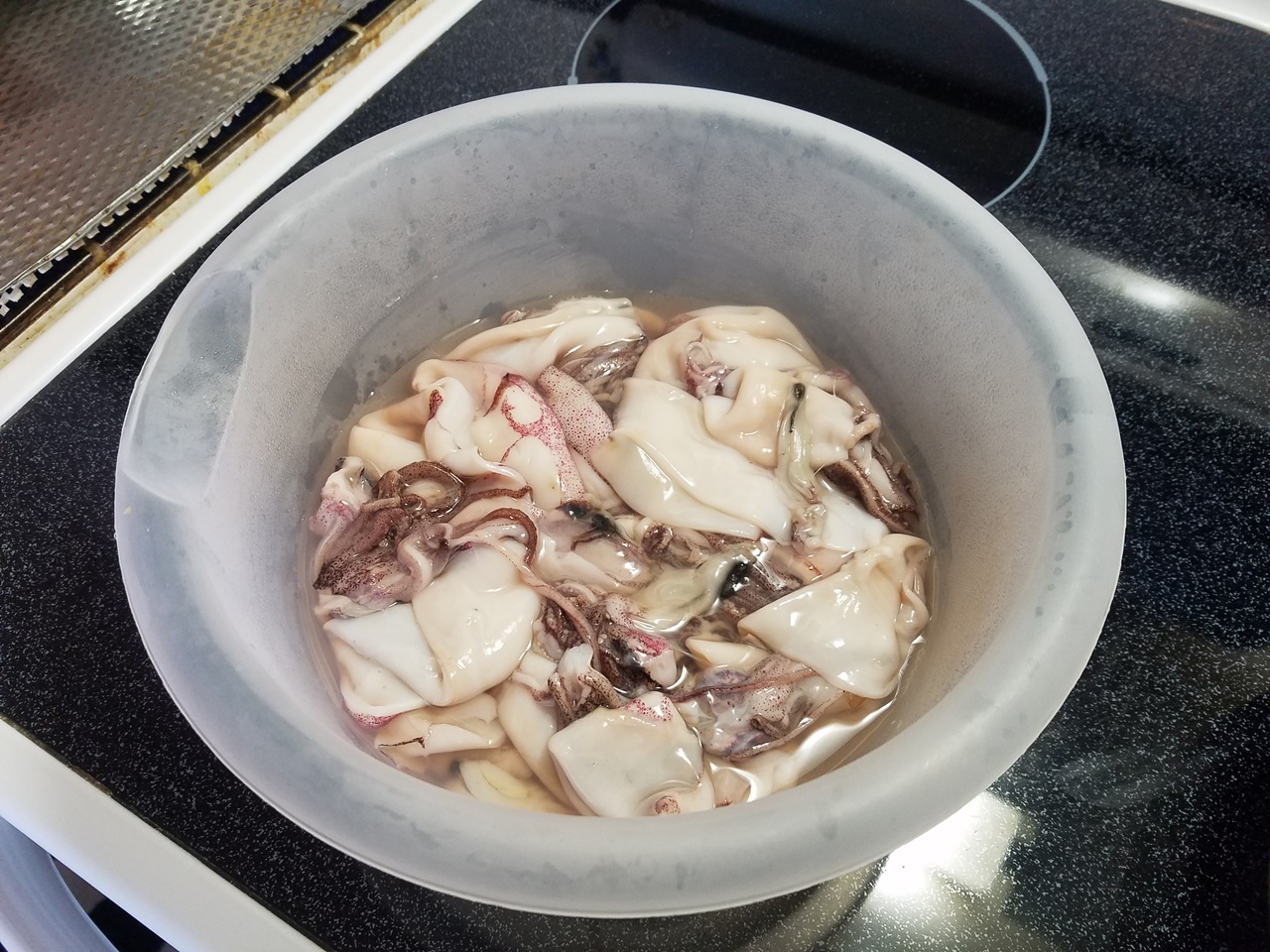 Have a medium onion and half a red bell pepper finely chopped and ready to go.  The same for about 1/3 of a cup of parsley and 3 or 4 big basil leaves.
In a skillet set to medium-high heat, squirt a bit of olive oil. Remember, we are not deep frying here.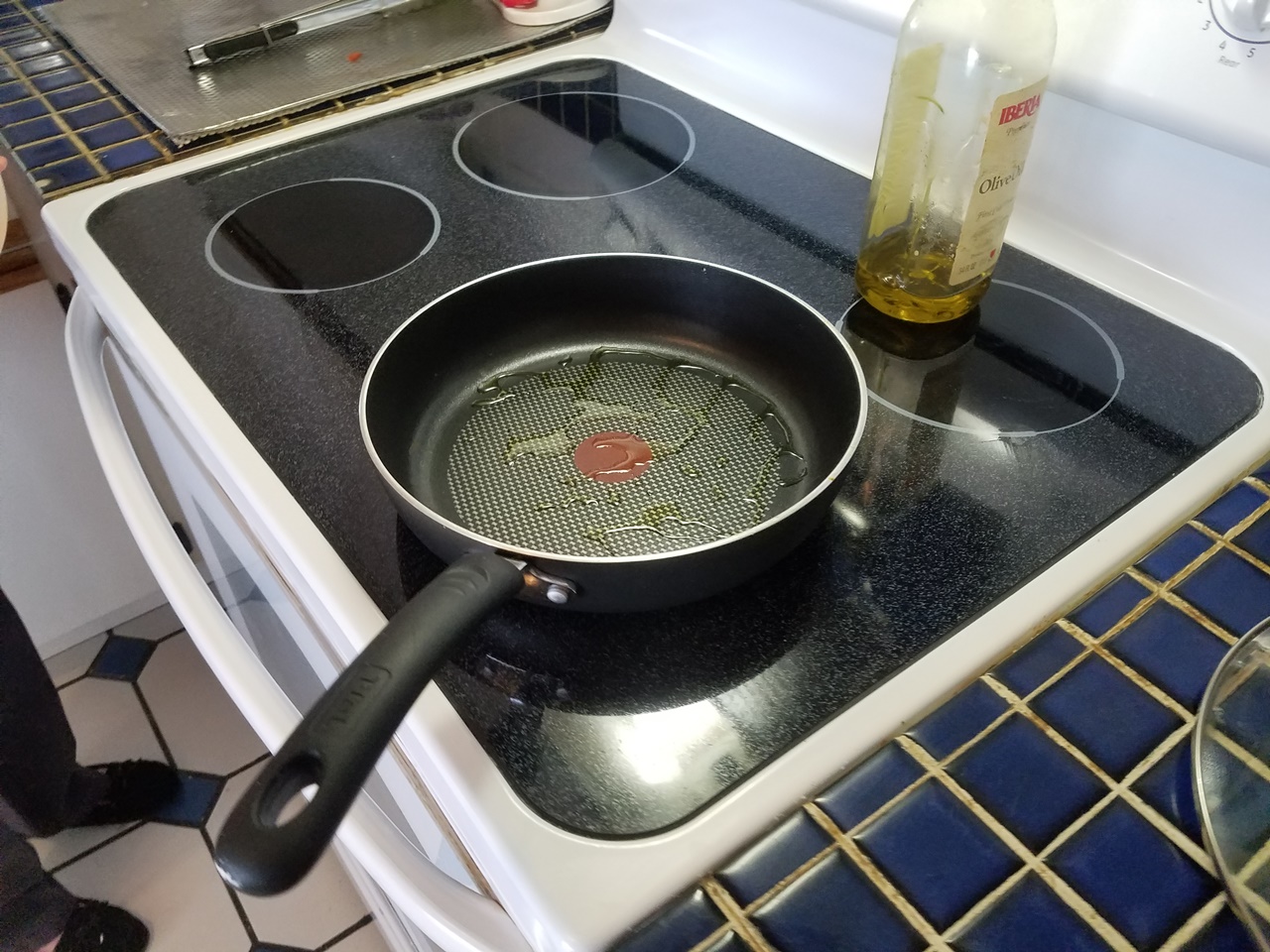 Once hot, add the drained calamari carefully.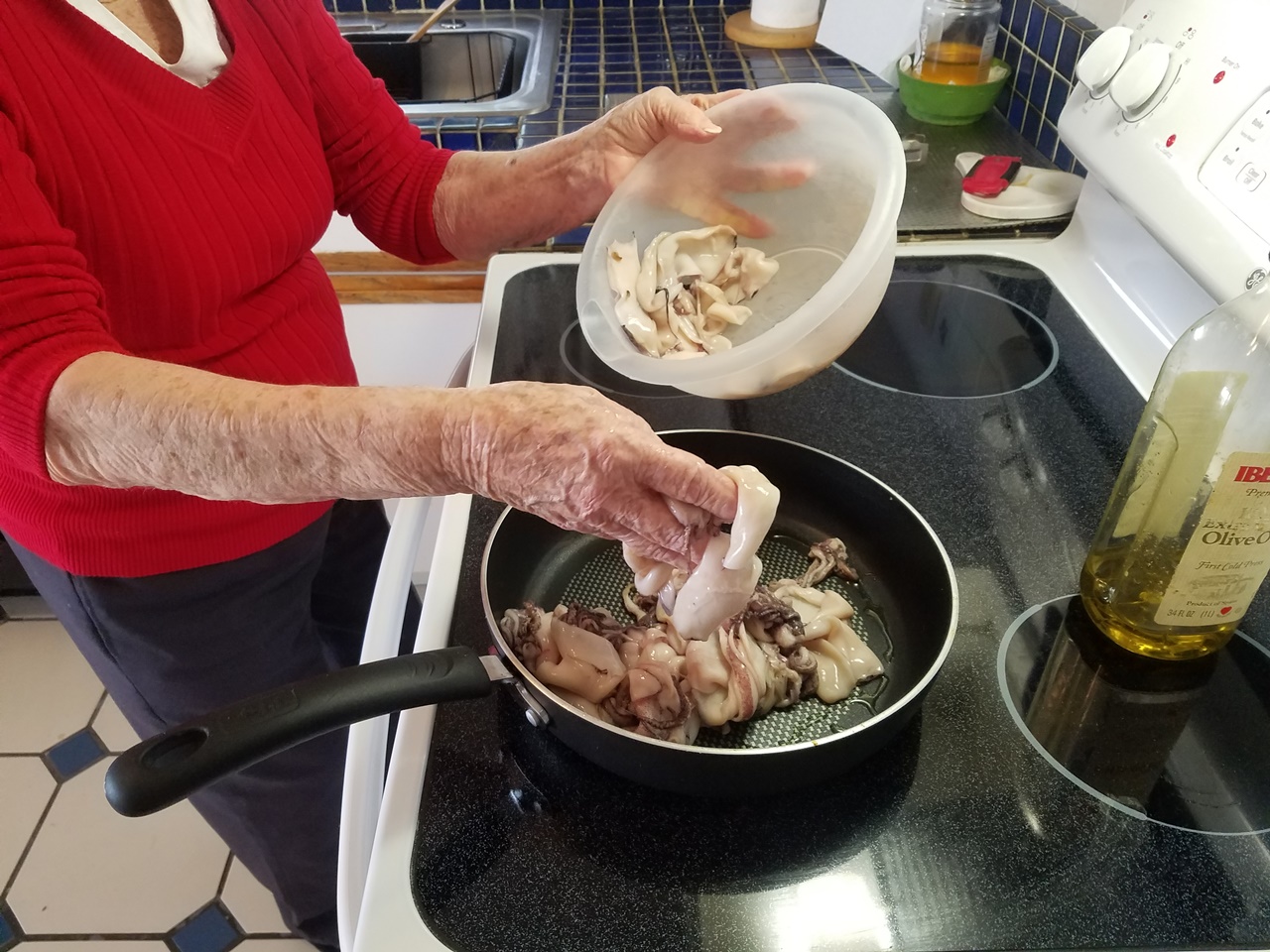 The obligatory bay leaves (2):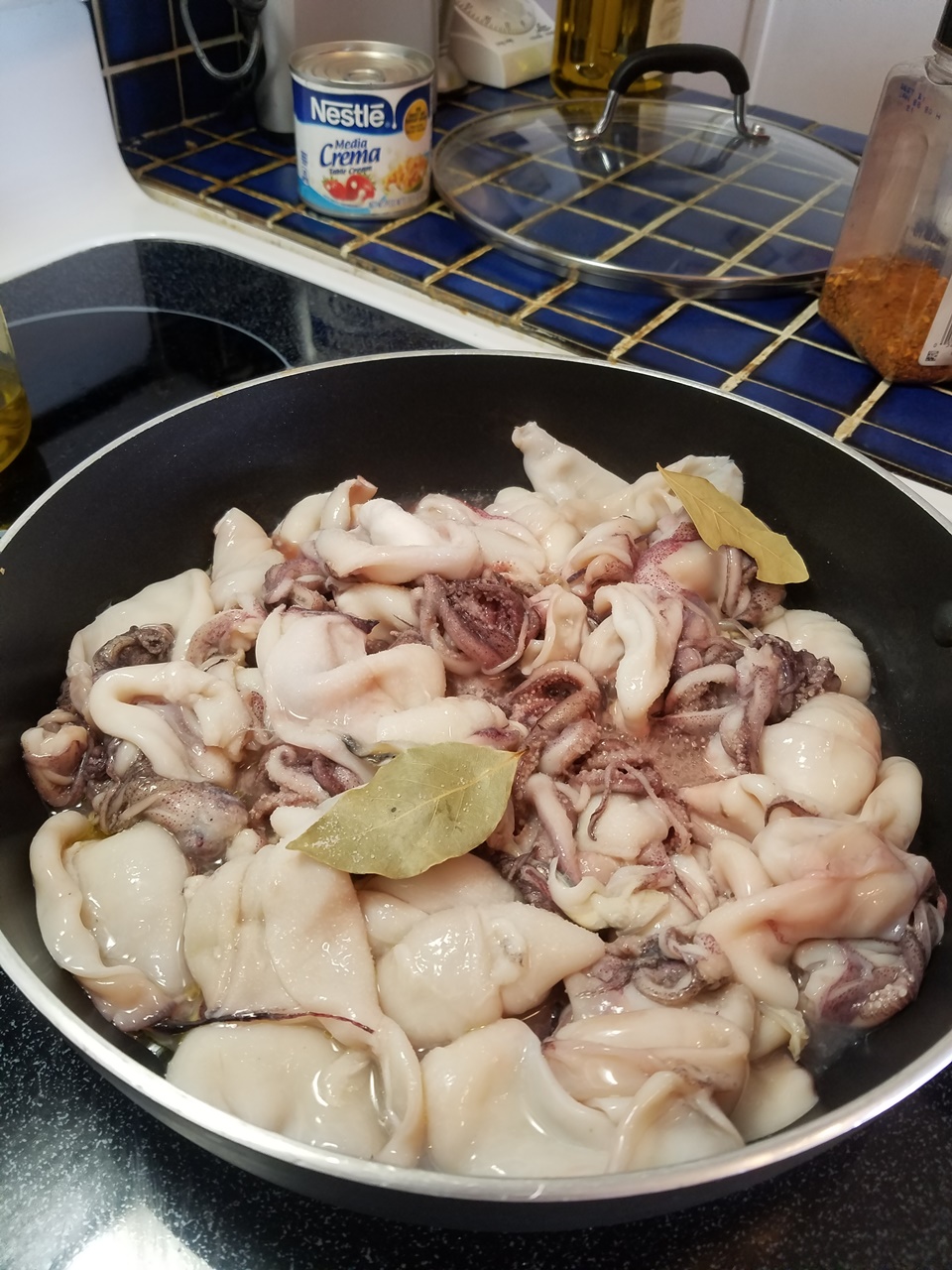 Next is salt, oregano, granulated garlic (we were out of the fresh and the minced, my bad) and don't forget to stir.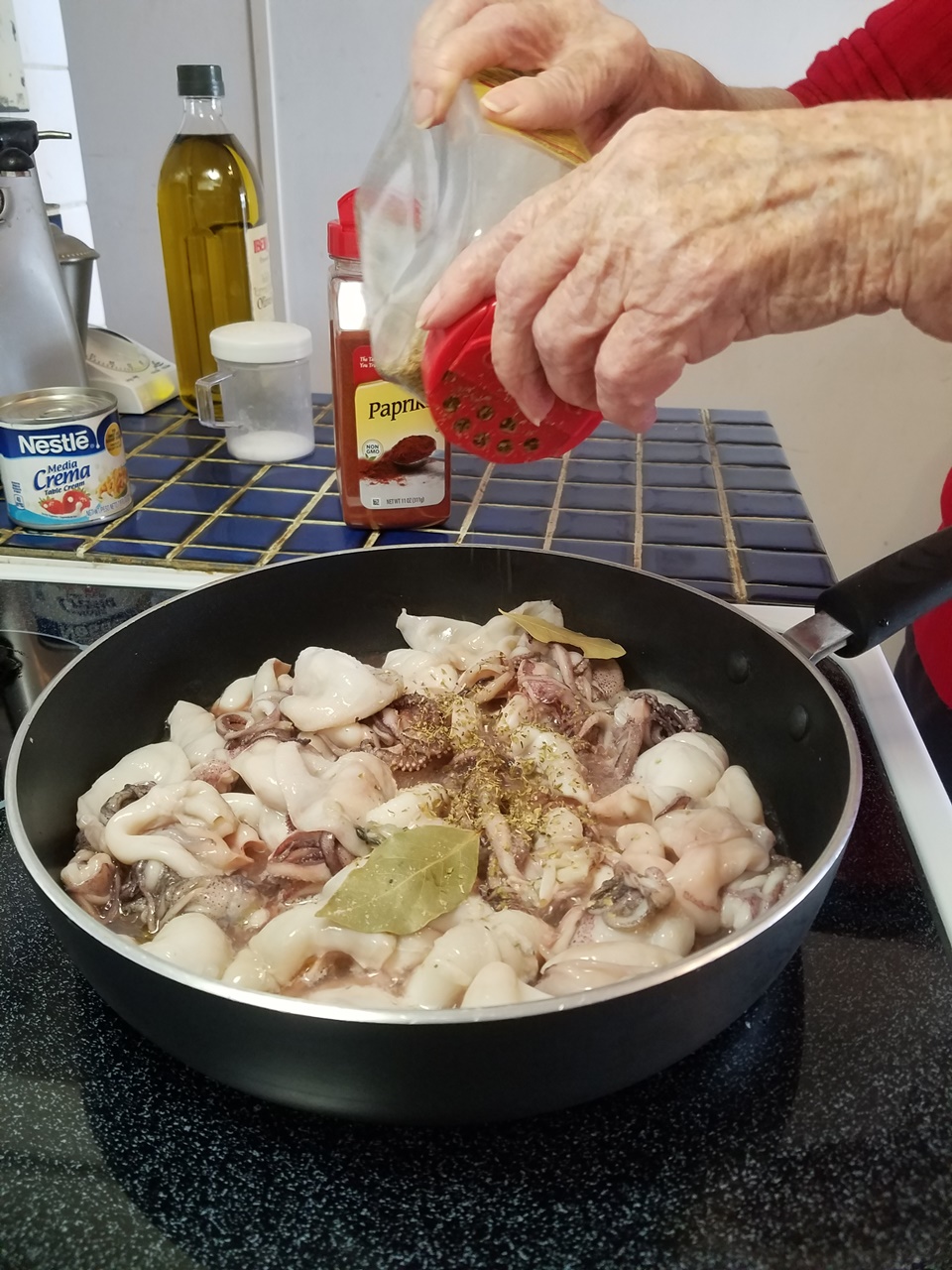 Next come paprika! I'd say for this amount of calamari, two heaping spoons will do nicely. It adds flavor and color to the overall mix.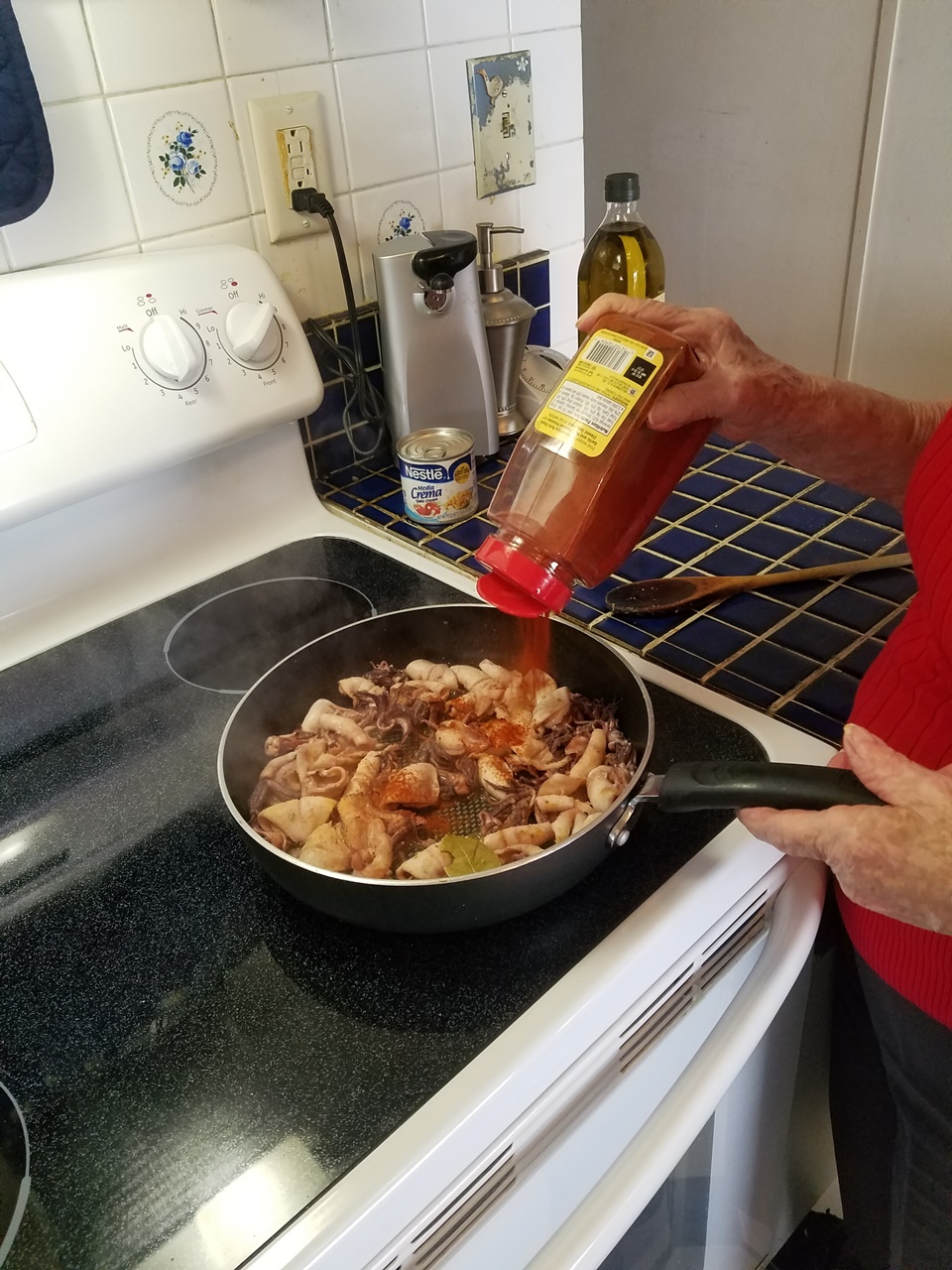 Stir for a couple of minutes making sure all ingredients are evenly distributed.  And the next step is adding the onion and the red bell pepper.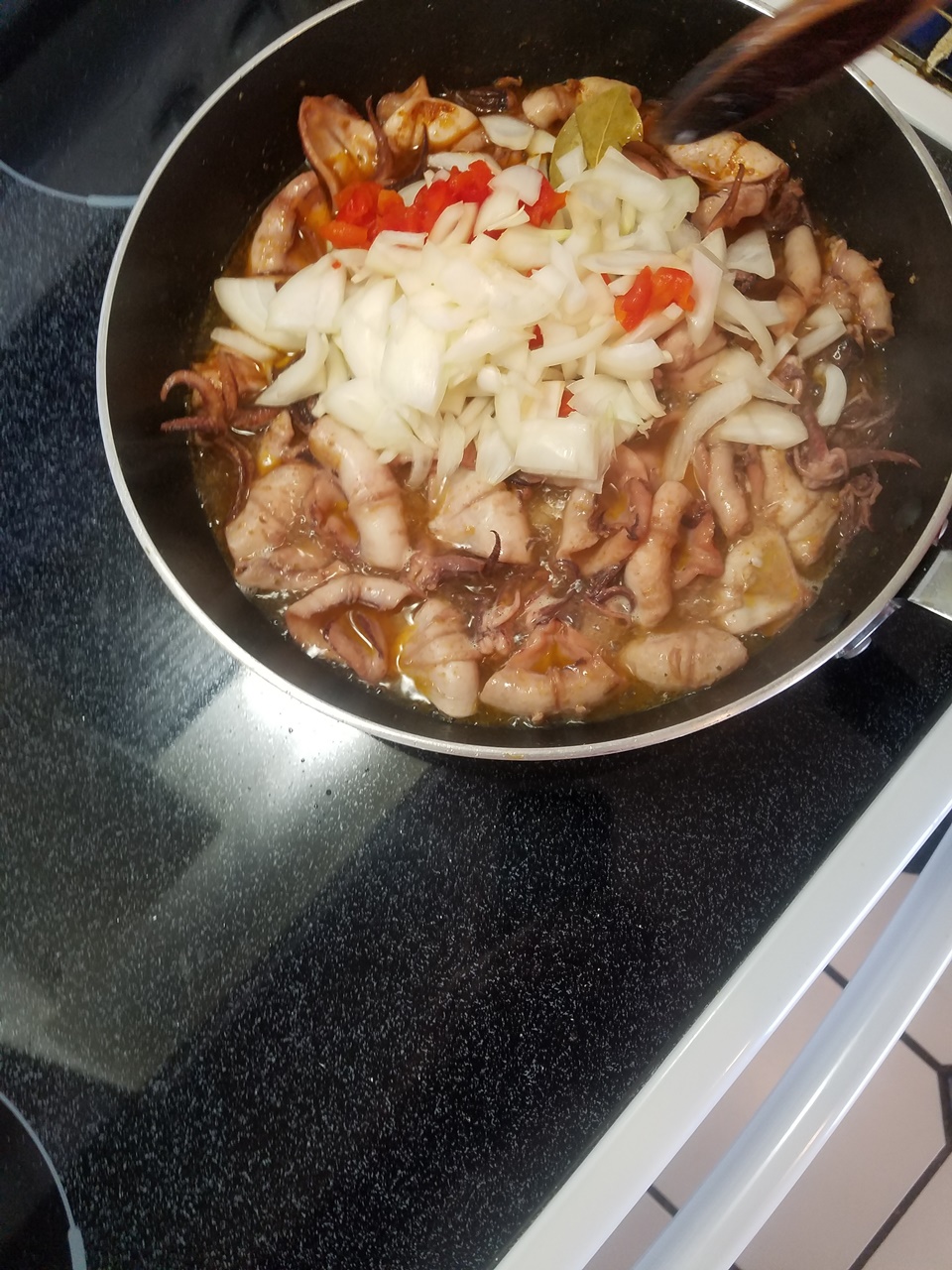 If you notice in the photo above, there is a lot of liquid in the pan. That is the calamari "sweating'  and you will need to drain most of that liquid. Use your pasta strainer and put the calamari back in the pan with another good quirt of olive oil first.
At this time, reduce the temperature to medium or a bit under. Next comes something we all know it is important: Liquid replacement. We start with half a cup if tomato sauce (use the good stuff, no Prego crap) and half a cup of the wine of your choice for cooking (not pictured).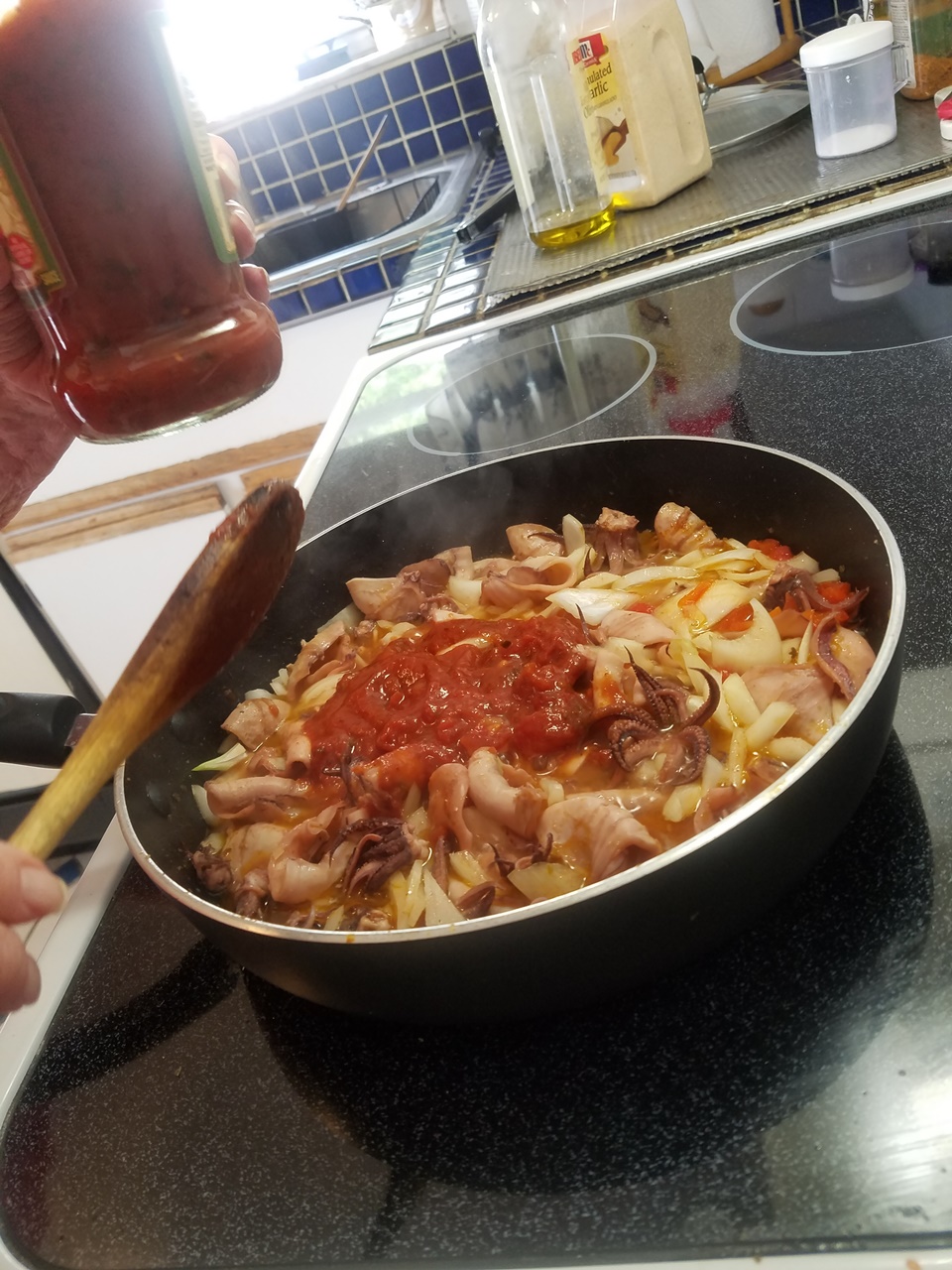 Again, stir all so you have a good mixture. Keep stirring for 2-3 minutes and then comes the green stuff: Parsley and basil.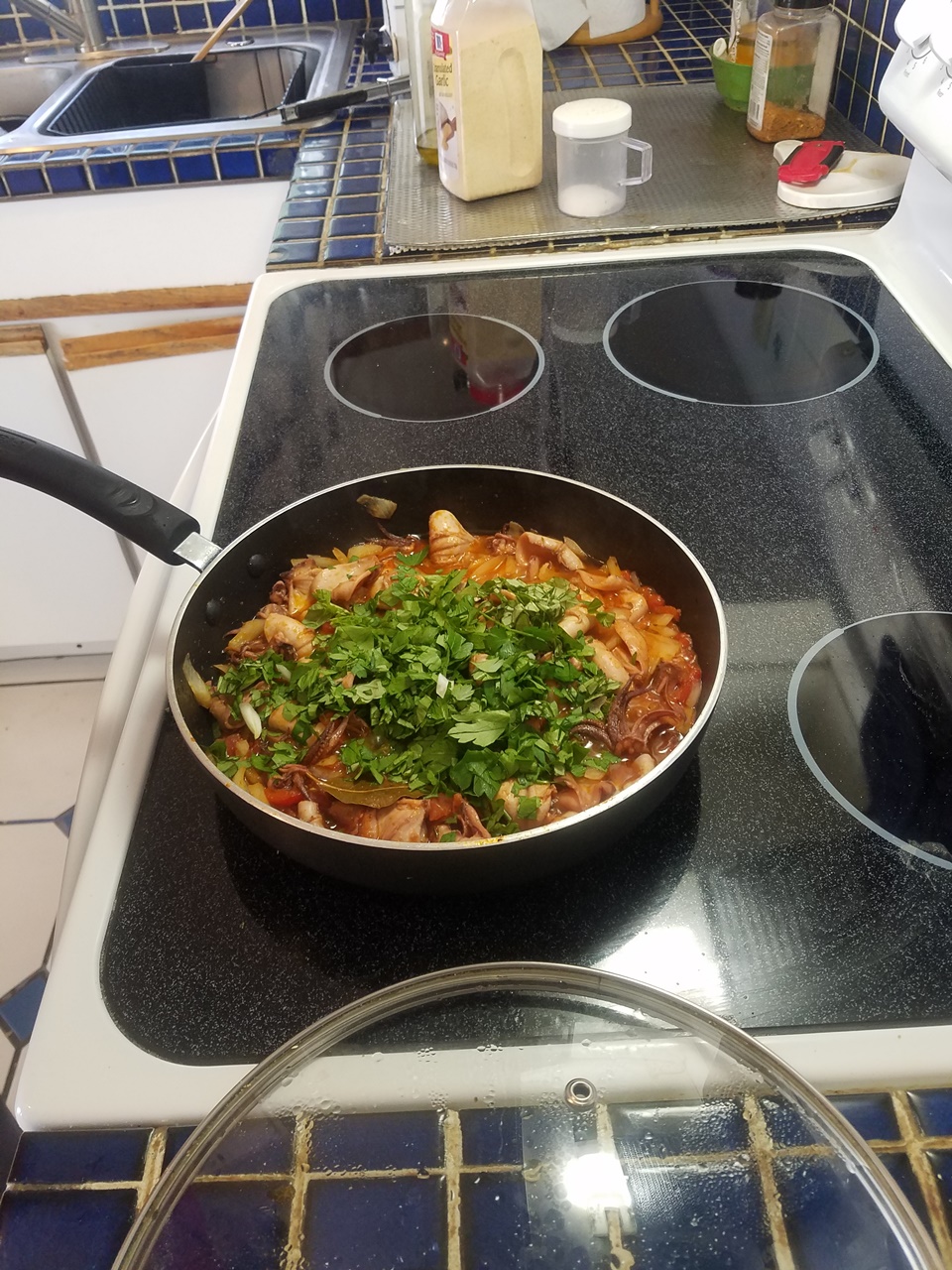 And yes, stir again (stir intense recipe) till it looks good!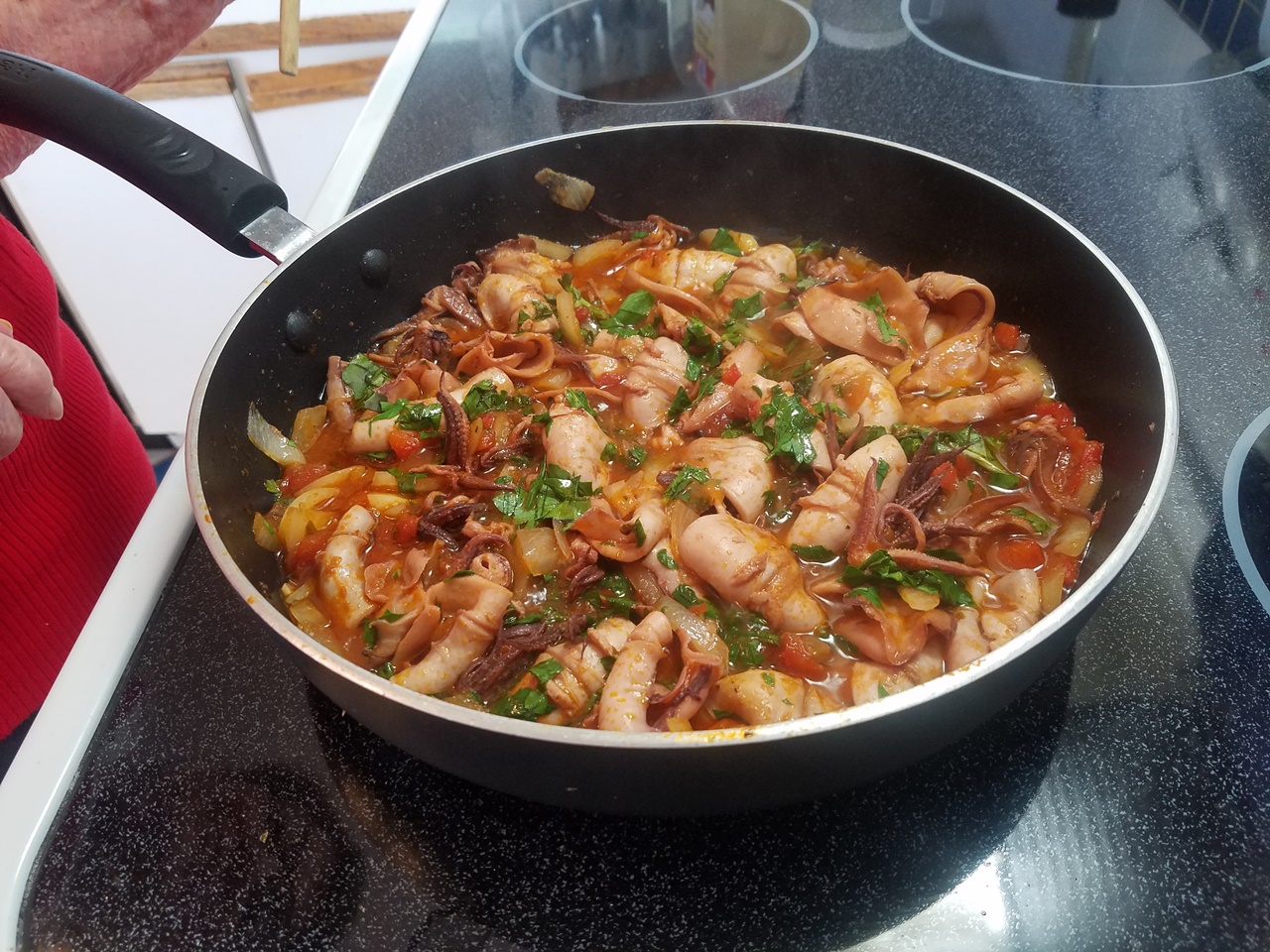 Taste for flavor and texture. Calamari should be or should be approaching consistency close to "al dente" but not quite.  Add salt if needed or any other condiment, but remember that a little will do.  Ste the heat to low, cover the pan and take about a 3-5 minute break.
And now, the finale: add 8 ounces of medium to heavy cream to the pan and yes! Stir again.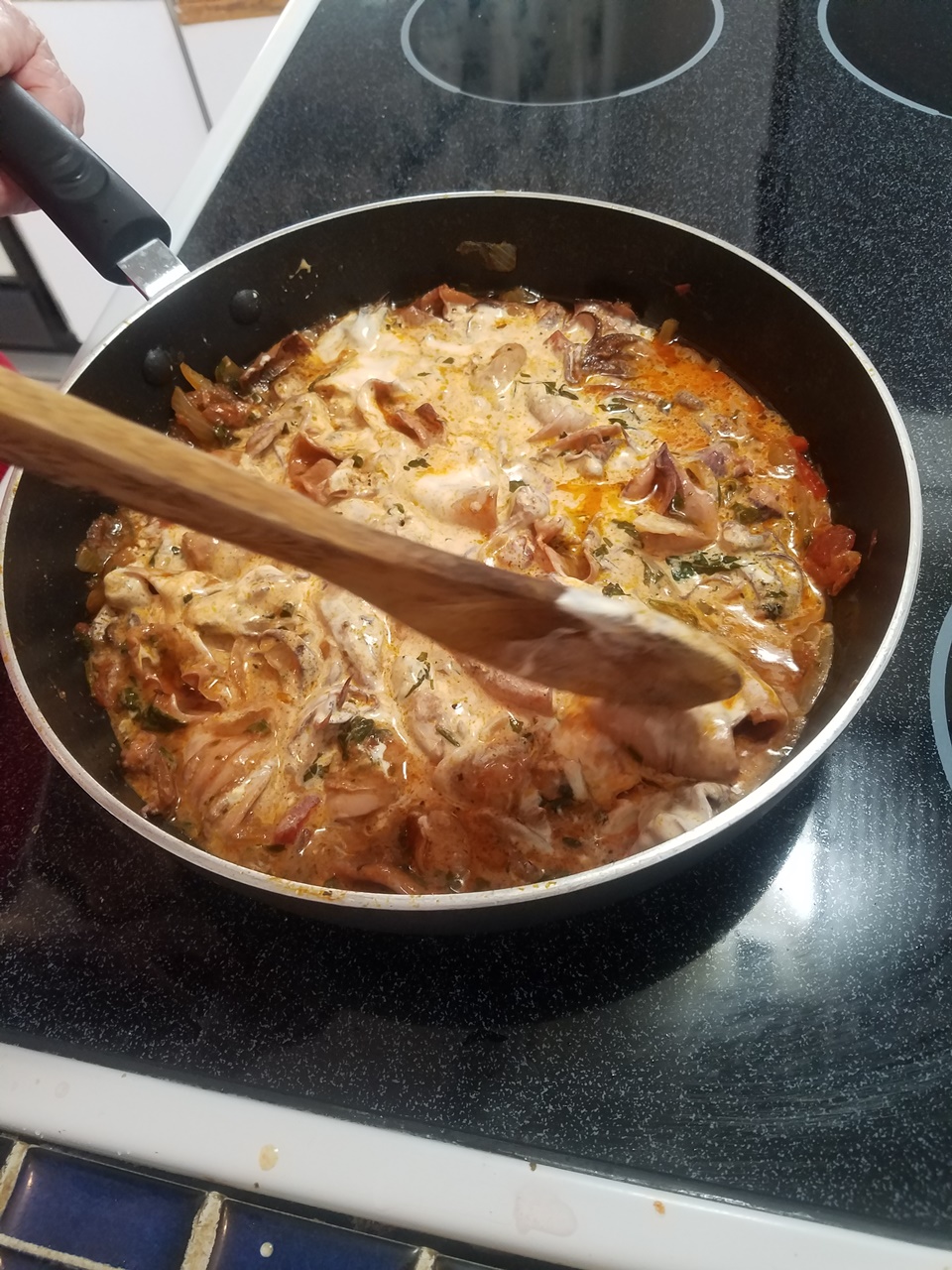 Keep stirring for another 3 to 5 minutes. If you don't stir, you will burn the cream to the bottom of the pan (That is what mom said and I am just re-transmitting the info) Once it is all nice and even, remove from the stove.  You are done.
Serve over plain white rice. You will not need to season the rice other than add salt to it since the rice will absorb the sauce and you will get all the flavor you need. If you do not do rice, eat with a nice artisan bread with a lot of middle and a nice crust.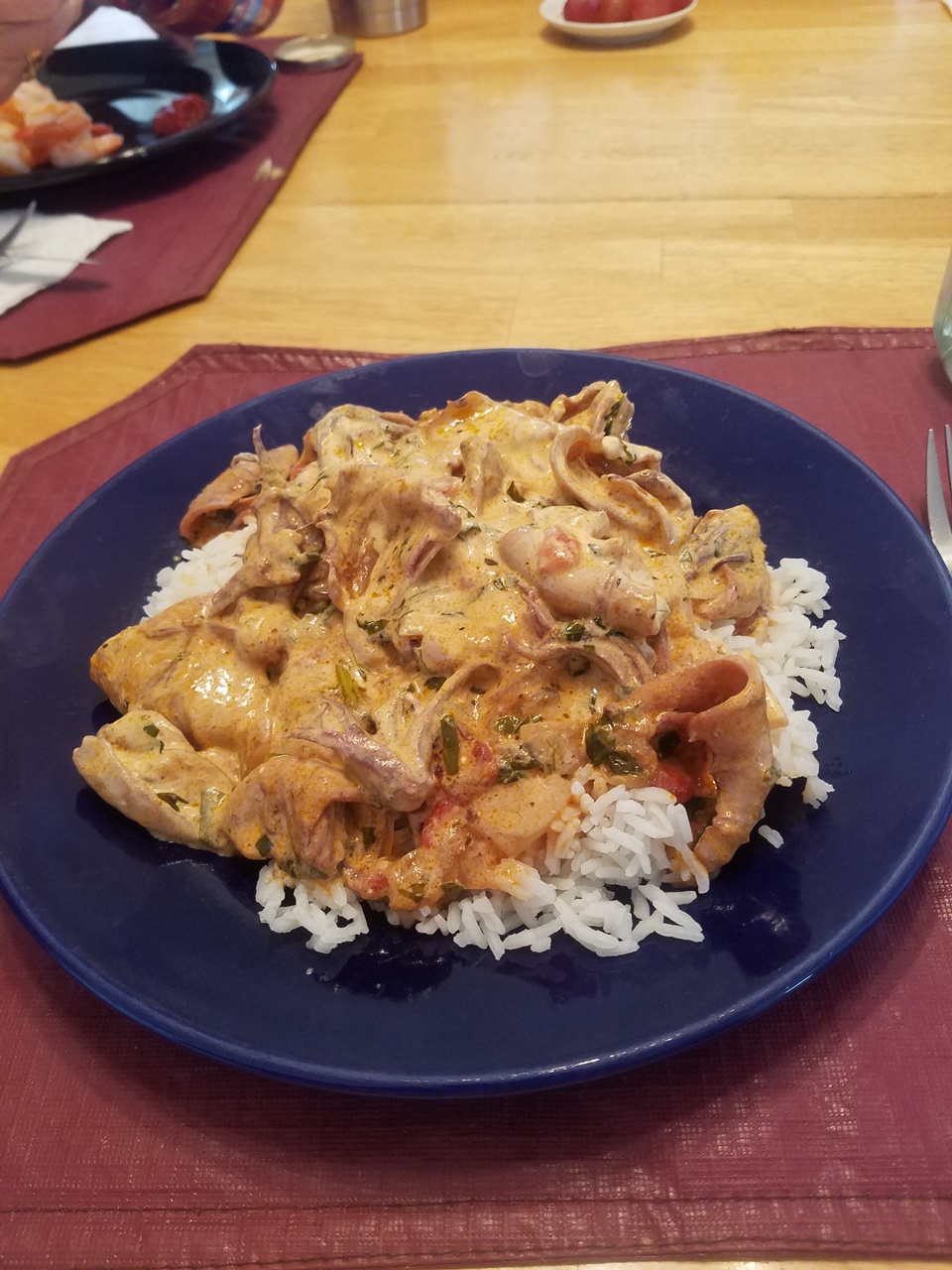 The real tint is a bit more pinkish because of the paprika, but it does not show well in this photo.
I expect some Texan I know will start thinking if he decides to take this particular challenge and serve this dish at certain get-together.