The report, called "Start Them Young," documents exactly how the gun industry is working to appeal to kids. One company has a friendly cartoon mascot, "Davey Crickett," an armed insect that is used to market a beginner rifle. Consumers can also buy the "Davey Crickett" beanie baby, replete with fake gun…
…"Imagine the public outcry if the alcohol or tobacco industries introduced child-friendly versions of their adult products," Josh Sugarmann, the study author, said in a release. "Yet the firearms industry and gun lobby are doing all of these things and more in their aggressive efforts to market guns to children."
Source: Advocacy Group Warns U.S. Gun Industry Is Targeting Children
Imagine if I were to inform you that, sadly you are only 30 plus years late to the outrage party. Yup, late by three decades and change. The Davey Cricket beanie baby is marketing from Keystone Sporting Arms who also sell the "father" of the Cricket Rifle: The Chipmunk. Heck, they even tell you how the Cricket came to be!
In the book Rifles of the World, we find this entry for the Chipmunk Rifle: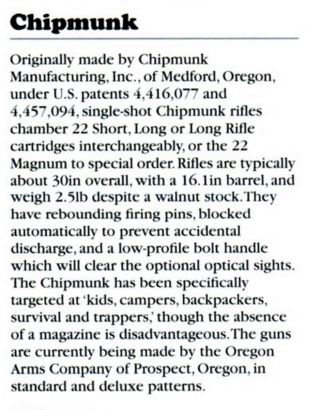 Lovely thing the internet that allows you to find information really quick and you find out that patents 4,416,077 and 4,457,094 are dated for 1983 and 1984. The Cricket Rifle dates back to 1996 so it is celebrating its two decades of existence this year which means there is a healthy market for them. Yet, we have not heard of school massacres by kids armed with either rifles…which it is gonna be hard since they are one-shot bolt-action rifles anyway. Now imagine how many thousands of kids learned the proper handling, shooting and respect of firearms with those two rifles alone. But the Opposition needs to keep the Outrage machine fed even if it is with misleading and late information because its followers are misinformed and refusing to learn the truth as shown in the comments of the CSGV post.

There you have it, Folks. Stay tuned since I am sure they will come up with a new outdated outrage soon enough like the facts that the NRA bought the Boy Scouts and they are now teaching kids how to shoot the Cricket Rifles so they can go hunting humans in the ghetto.
PS: I know there are kid rifles even older that the Chipmunk and The Cricket. If you have the knowledge, please share it in the comment section.