The leading principles of the Left are:
It is possible to obtain Utopai – i.e. universal peace and prosperity – through the implementation of top-down government policy created by educated experts and technocrats.
To achieve Utopia requires the mass extermination of everyone who is incompatible with Principle No. 1
Hilter thought if he got rid of the Jews, Roma, gays, political dissidents, non-Aryans, he could achieve Utopia, call the Thousand Year Reich.
Stalin targeted dissidents, the well-educated, Jews, and anyone else that he deemed a threat to him.
Mao targeted dissidents, anyone educated in the West, landowners, business leaders, college professors, anyone who was smart enough to question his plans.  Pol Pot and Castro did the same.
Today's elite are not going to go down the path of Soviet-style Communism.  They prefer the Chinese model of totalitarian government with an economy run by prosperous monopolistic mega-corporations that operate in concert with the government.
They still need a reason to commit genocide to move in the direction of Utopia.
The new reason to justify the mass extermination of human beings is Climate Change.
The insane people at The Guardian published an article that sets up the historical precedent for that.
Why Genghis Khan was good for the planet
Laying waste to land scrubbed 700m tonnes of carbon dioxide from the atmosphere
His empire lasted a century and a half and eventually covered nearly a quarter of the earth's surface. His murderous Mongol armies were responsible for the massacre of as many as 40 million people. Even today, his name remains a byword for brutality and terror. But boy, was Genghis green.
Genghis Khan, in fact, may have been not just the greatest warrior but the greatest eco-warrior of all time, according to a study by the Carnegie Institution's Department of Global Energy. It has concluded that the 13th-century Mongol leader's bloody advance, laying waste to vast swaths of territory and wiping out entire civilisations en route, may have scrubbed 700m tonnes of carbon from the atmosphere – roughly the quantity of carbon dioxide generated in a year through global petrol consumption – by allowing previously populated and cultivated land to return to carbon-absorbing forest.
Killing 40 Million people for the planet.
We hated rubes in flyover country don't fit well into the Left's machinations.  We like our cars, and our small towns and rural communities make large-scale public transportation difficult.  We like houses with yards and generally prefer our independence to people who live packed into apartments.
One of the things Biden has done which has flown under the radar is this:
The U.S. commits to tripling its protected lands. Here's how it could be done.
In an executive order issued on January 27 to address the climate crisis, President Joe Biden ordered a pause on new oil and gas leases on public lands and created a White House office of environmental justice. He also quietly committed his administration to an ambitious conservation goal—to protect 30 percent of U.S. land and coastal seas by 2030.
That target, referred to as "30 by 30" by the conservation community, is backed by scientists who argue that reaching it is critical both to fighting climate change and to protecting the estimated one million species at risk of going extinct.
This is a visual of what the EO is going to do.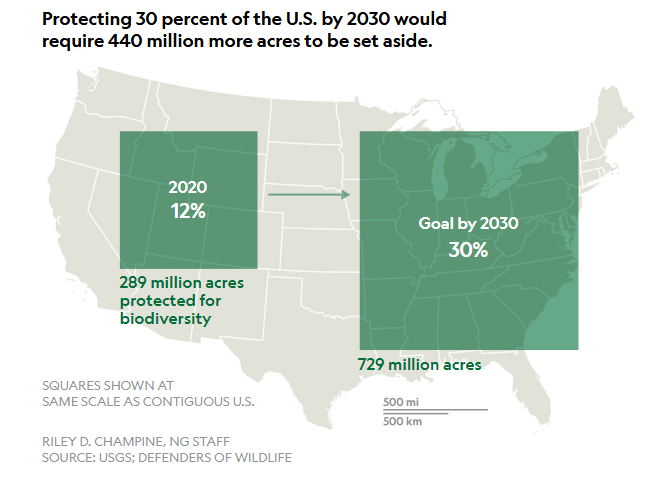 That's a lot of land.  Land with people on it and used for farm land.
How are they going to do that?
Perhaps the Genghis Kahn approach?
If you depopulate the land and get rid of tens of millions of people (74 million Trump voters for example) that's a lot fewer mouths to feed which requires a lot less farmland to grow food on.
Imagine the world of 2000 AD, in which Americans live in two coastal mega-cities, fed on community gardens and protein derived from bugs.  But outside the walls, instead of a nuclear wasteland of the Cursed Earth, it is protected wilderness that the elites will have the privilege of getting permits to visit.
Allowing Middle-America to return to carbon-absorbing forest and grassland, it's what Ghengis Khan would have done.