You may have seen the video, if not, here you go:
So far all evidence indicates that Amir was not involved in any way with a crime, and he even had the Good Guy certificate know as Carry Permit. However, I am not going to talk about the actions of police from any point of view (politics or anything else) in this video, so please don't go there in the comments. What I want to address is what could have made a difference in this action that would have kept Amir alive? I am going to advance that outside camera and a "night lock" would have helped.
Same as Amir, you and me have done nothing wrong, we do not expect that Law Enforcement would come out with a warrant, specially at Dark Thirty in the morning and the one people we would expect breaking at that hour would be criminals. We have programmed ourselves to go to guns and repel boarders when we realize our home perimeter is being invaded. The problem is, sometimes it is not the bad guys but an overwhelming presence of police force which surprised you and is about to kill you if you make any move.
I don't know you dear readers, but as I get older, I have a tougher time coming out making sense from deep sleep (when I can get a good sleep) and in that transition, my brain is pretty much a diesel engine trying to start on a winter morning with a weak battery. Reaction times and rational thinking are pretty much measured in falling sands of grain, so anything that gives me an advantage to slow down events and process incoming information is a must have right there just as a good cup of java. I need time to properly wake up and asses what is going on, so I have to slow down events as much as possible to tilt odds on my side. And I don't mind an added bonus of a lot of noise to wake me and get the adrenalin pumping through my system.
We have discussed cameras before: There are plenty of offering at inexpensive prices and it is up to you to pick brand and specs according to your needs and budget. I do want to discuss the use of Door Security devices, especially after seeing this video. I am talking about locks and other instruments that cannot be operated/unlocked from outside the house and even not seen by anybody trying to break in.
The most common is the door security bar or the New York bar.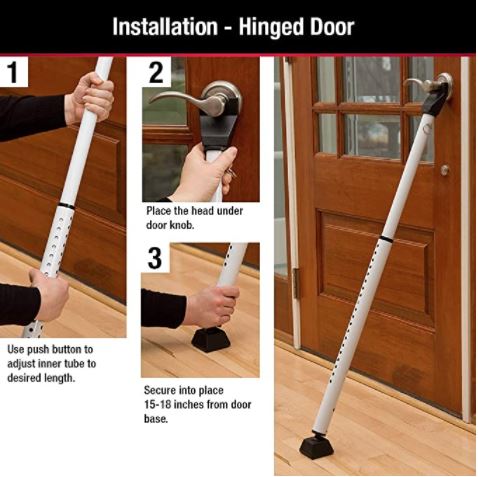 They come in a dizzying variety of brands and models depending on type of flooring, door and whatever else is available. some people like it, some hate it because they look ugly but they work. Your door now has a point of anchoring that is not a couple of 1/34 inch screw against a veneer of wood, but the flooring of the house is now pushing against the it and possible intruders.
I am not one of the fans of the door bar, so instead I got a door reinforcement lock.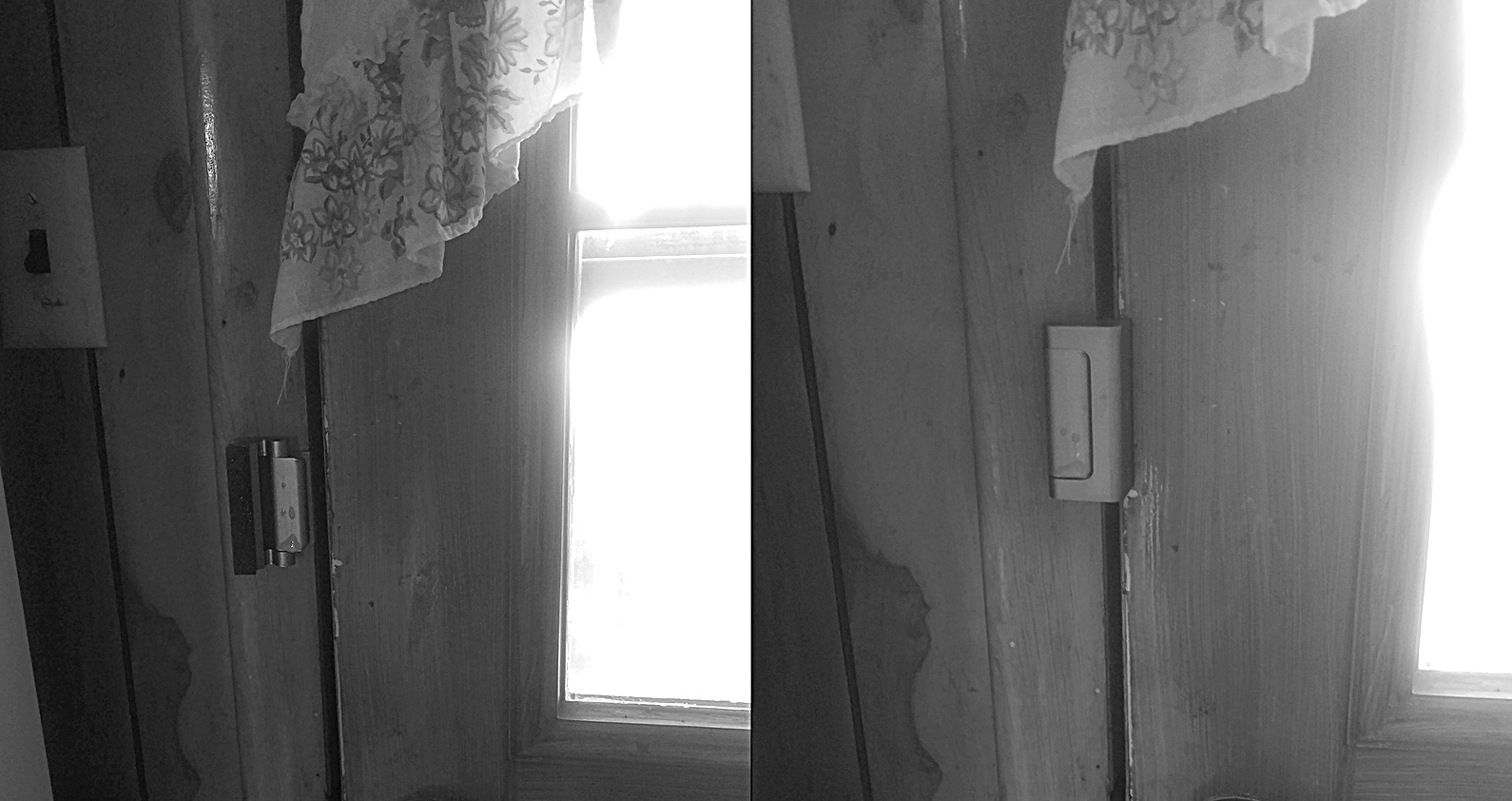 It attaches to the frame of the door and house with four 3-inch screws and with a simple flick, it secures the door against kicks, rams, etc. Your door becomes a drumhead announcing bad people are outside trying to come in. The particular advantage to this lock over the bar is that like in the case of this door with glass panes, a bar would be visible from the outside and a possible counter measure or move used to break in. The door reinforcement lock is pretty much invisible for outsiders, so even if they decided not to be discrete, they are going to have a tough time trying to figure out why the door won't open even after they unlocked the regular doors.
Mind you: None of the systems will stop a dedicated individual or group determined to come in, but a good lock will slow down and make a ton of noise which may give you just enough times to deploy countermeasures or, in a case like Amir Locke, be sure you don't have anything that may send you to a metal slap to be cut open for autopsy.
Do search what you think fits your needs. install it and use it.  And use the comment section to share other security choices. Please, leave the politics out on this post. Thanks.