I was screwing with Allende-Defender people in Twitter and this happened: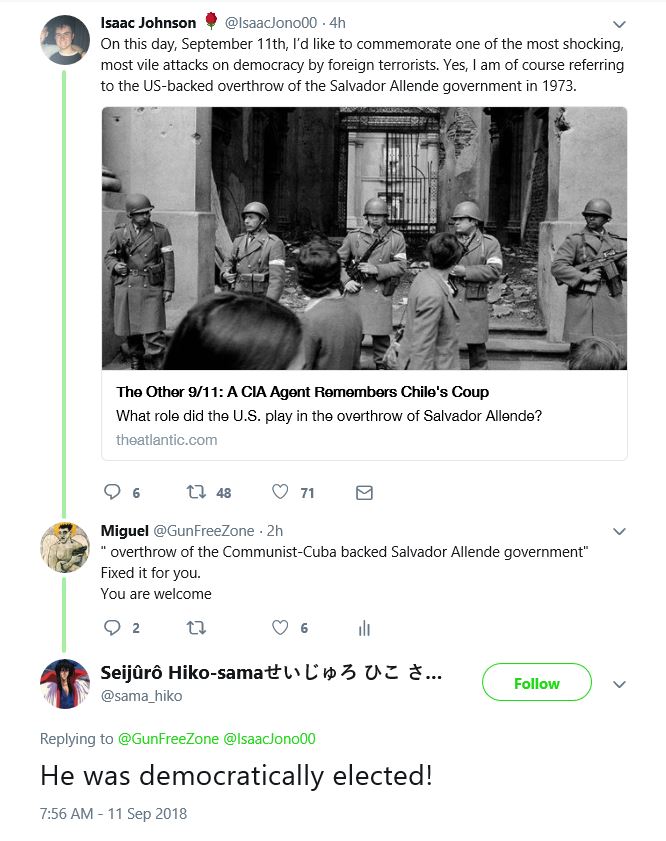 The Liberal Immunity Spell attacks again.  But it is not that simple, the formula is binary and works something like this:
Lefty/Progressive + (Special status person or event) = Can't be touched.
Examples:
Bill Clinton gets blowjobs in White House by an intern and lies about it = Nobody's business.
Donald Trump had sex with a porn star years before becoming a President = Impeach him!
Alyssa Milano gets told in Twitter she is a dumb broad = Sexual harassment & death threats, call the cops, suspend the offending account.
Dana Loesch gets called a cunt and they hope her family dies a horrible death = Not a violation of Twitter rules.
You get the idea. The Liberal Immunity Spell is the political equivalent of the Endangered Species Act: The gator may be chewing on the family dog and your toddler, but if you shoot the bastard, you may be arrested. The same applies if you dare to challenge a Liberal or a Liberal/Progressive/Socialist/Communist cause: It shan't be touched because we say so!
If infectious diseases ever become politically correct, we are sorely screwed.