A SWAT team on the campus of California State University San Marcos surrounded a staff member equipped with protective rain gear this week.
via SWAT team responds to college staff member carrying umbrella (VIDEO).
Here is the pic of the dangerous takedown: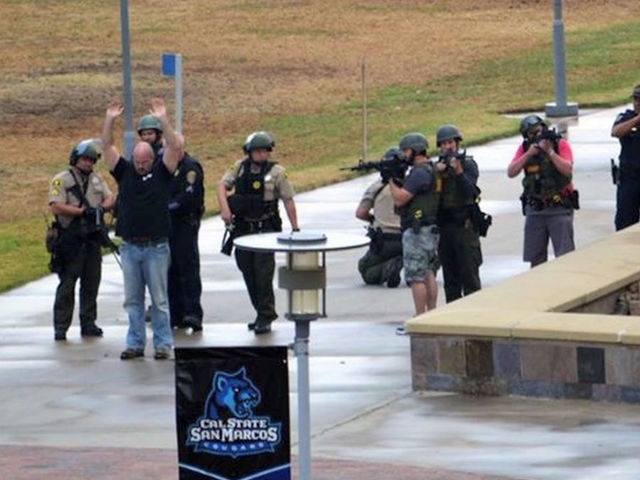 "It was long umbrella with a strap I guess it went over the shoulder, so you can see where the confusion came from."
Those were the words of the "reporter on the scene" and he is either making shit up as he went or there are some seriously stupid and ignorant people at California State (San Marcos.)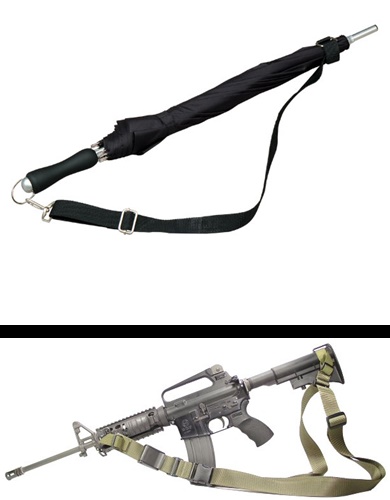 So basically if it has a strap and goes over the shoulder, you can expect to have Law Enforcement called on your ass. Some items with straps that go over the shoulder and may get you shot are : Brassieres, Messenger Bags, Baby Carriers and Accordions (OK, you could make the case for accordions.)
One more thing: I know SWAT was called in and they have all those wonderful toys but, can anybody explain to me why in God's graces do they need to be muzzle sweeping every frigging student & faculty in the frigging campus?
Hat Tip: Robert The K.