So we have done the car registration and the Driver's License thing here in Tennessee and the next step is to get the Enhanced Carry Permit (Yes, we want the darn thing because reasons.)
Now mind you, to get the TN DL which is supposed to be Real ID compatible, I was told to present Proof of Citizenship or Legal Permanent Residence so I could get that cute little star in the ID card indicating I am all good in that sense. So when I got my license, I took my certificate of naturalization and all was well and I am supposed to get my DL with a star in the mail sometime in the next couple of weeks (the fact I am driving around with a printed copy of the DL in the meantime is one curious TN thing I won't address just yet.)
I don't like messing around much with the Certificate of Naturalization as it is the only thing you have to prove indeed you went through the legal hoops and are a Citizen. US Born Americans can get a copy of the birth certificate  without too much of an issue, but I have to deal with the federal government and pay a frigging fee of $555 for a copy of the gorramed document which is why I keep the darn thing under lock and key at all times.
So a few minutes ago, I sit down to review the requirements for the TN Carry Permits and I get this: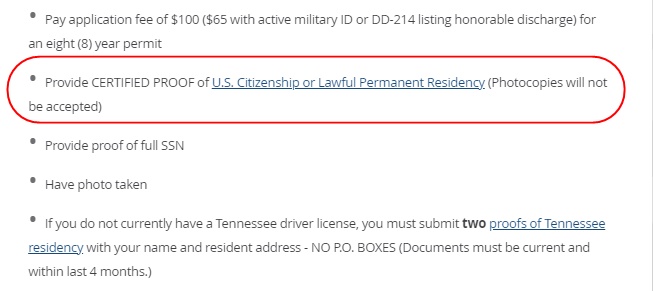 Clicking at the link takes you to the list of approved items which do not include the frigging "TN DL. Now with Real ID!" which is supposed to be proof you are indeed legally here. And that begs the question of why did I go through the Real ID crap in the first place if the DL is not good enough.
And no, I don't have a valid passport. Mine expired long ago and I tried to get a passport card before moving, but the slowness of the process would have meant they would be mailing the document to the Miami address rather than TN.  Now I have to wonder if the Passport card would be an accepted form of documentation or do I need the full booklet so the officials processing future paperwork will consider it valid.
I am going to breathe deep, count to ten and  wait for the TN DL to arrive in the mail, only then begin the process to get the EHCP.  I will probably go ahead and apply for the passport too so I can secure the hell out of my Citizenship Certificate and stop messing with it. If I read the law right, my Florida carry license should be valid for 5 months and 3 weeks before I am legally obligated to have the TN card.
Bureaucracy has a way to ground you back to reality, doesn't it?