Perhaps you may have seen the last text that Lance Cpl. Squire Wells sent to his girlfriend before being murdered in a islamic terrorist attack by Pedophile Worshiper Mohammad Youssuf Abdulazeez. It is heartbreaking.
But the fucking vultures at Moms Demand could not keep their filthy claws away from the corpse, no sir. They had to drag their nail deep and pretend they fucking care all of the sudden and if people only would pay attention to their "common sense" ideas on Gun Control, none of this would happen.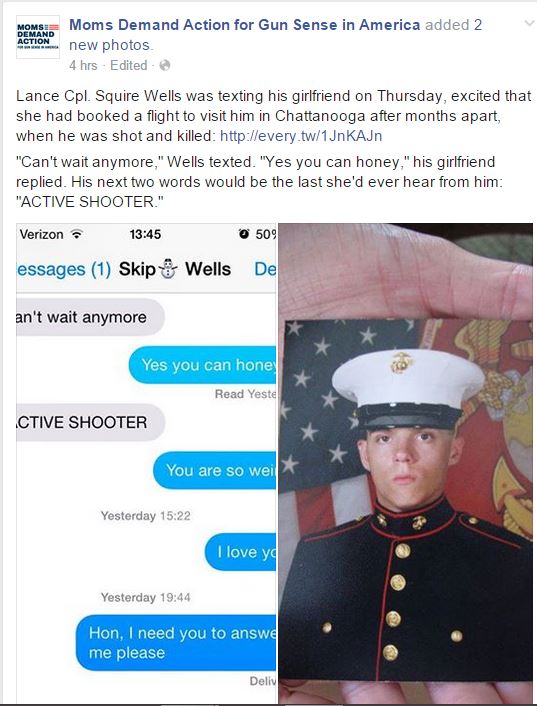 The ban on military personnel carrying firearms go back to the Nixon era, specifically 1969 (I guess they were afraid that some draftee would shoot the shit out of a Drill Sargent) and reinforced during the G.H. Bush (No NRA Friend) and the Clinton Administrations. So, a subset of people who Moms Demand and the rest of the asshole cronies claim are the only ones trained enough to be allowed to carry guns, are in fact disarmed and they never had an issue with it and apparently still do not as we have not heard any of the fucking Gun Control hypocrites demanding that the ban be lifted.
Recruiting Stations and Reserve Centers are Federal properties or considered to be under the mantle of the Federal Government, that makes them Gun Free Zones, something that morons Shannon Watts and Michael Bloomberg endorse with all their mighty faith because they are magical places where bad guys do not go in, bullets do not fly and guns explode the moment they cross the invisible line denoting the enchanted force field.
Unfortunately, Life has a way to grab a big stinking pile of dog shit and rub it into reality. The "awesome" experiment of individual disarmament and allegedly "protected zones" keeps failing miserably. Four brave Marines paid with their lives for the masturbatory ideas of a few Intelligentsia assholes that will insist their solution works if only they can pass one more law and the Gun People stop being backwards and compromise. They are so right (according to them) that they are willing to get you killed to prove their point.
But why I am taking this case so personal? There has been other shootings in other Gun Free Zones, right? It is because I don't see a clear solution for this Federal Gun Free/Disarmament madness. In the civilian side, we mostly fight at state level, some federal and engage in a war of attrition against a powerful enemy. Although we have suffered defeats, we have been winning more and more, even turning the tide as how the average person sees guns and the Second Amendment.  Now you tell me, How the fuck Am I to protect those who sworn to protect us all from Foreign Enemies when we have political Domestic ones painting big ass bulls-eyes on their backs?
I know the military is ruled under a different set of laws and regulations than the civilians, but even they have some similar basic rights even under the UCMJ. How can we ask these people to go out and get themselves killed in action when they are not even allowed to defend their families in their homes if they happen to be using military housing? What kind of sadistic and insane bullshit is that?
I read some time ago in an article (I hope I could remember who wrote it for attribution) that a terrorist could expect more return fire from the local WalMart than from a military base. It is a crying shame, but that is the absolute truth.
So Moms Demand and assorted bloody harpies: Lay the fuck off. I am sure there will be plenty of bodies in the of Chicago this weekend in which you can tap dance around their blood.