My favorite Pod-Mistress Gail Pepin has a bone to pick with some firearms manufacturers. It seems that she finds demeaning the use of big boobs and slim female bodies wearing saran wrap-type clothing to sell guns to the male population and also hates the idea that pink guns will sell automatically to women because of some hidden genetic code that forces them to buy anything in that color according to manufacturers. Gail also picks a serious femur with us because we actually take a spell to admire such marketing ploys. Supposedly, we should be ashamed of ourselves.
Gail, sorry but this cro-magnon is not apologizing. Although I understand there is a fair amount of the "fair" sex that finds these type of things offensive, another fair amount do not care and sex is a valid selling tool. However do give us neanderthals the benefit of  doubt. The babe displaying the gun can be the Playmate of the Century and have the body that God and a very good plastic surgeon gave her, but if the gun she is pushing is crap, I ain't buying and that goes for the majority of fellow male Gun Owners.
I don't care if the Whizbang 3000 Tactical AKlon comes with a free Hooker-a-Month and a free weekly case of Jack Daniels, if it does not go bang every time I pull the trigger and lands the bullets where I want it to go, I will not buy it and neither will any other gun owner with an IQ above 75. Specially nowadays with the Interweb and gun forums offering almost instant and brutal reviews on any gun that hits the market.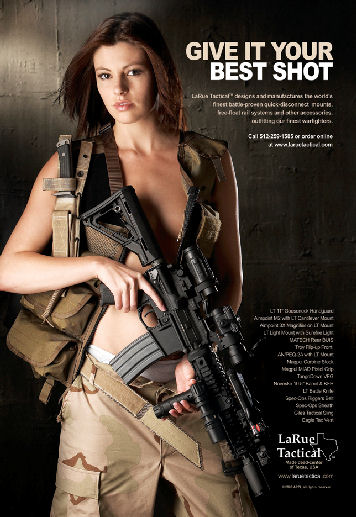 I don't think there is a male in the Modern Gun Culture that has not seen the above poster. And allegedly there is one even racier floating around the net (If you have it, please send me the link or mail me the pic to miguel(AT)gunfreezone.net, many thanks in advance) but as good looking as she is, the only reason LaRue sells oodles is because they deliver a great quality product and they stand by it. As good looking as poster babe could be, I am not defining my self defense on libido but weapon quality and functionality. If SHTF, who in his right mind will pick her over a rifle? (Yes guys, there is a rifle in that poster. Look harder.)
As for pink guns, why not? There are actually many women and some men that like pink. If the lady likes purple…sorry…fuchsia, well go ahead and get a gun in that color. It is your money and your taste and as long as it goes bang and hits the target, who cares? I love to see my wife wearing a pink blouse or sweater 'cause I think she just looks beautiful in it. She is not a fan pink so I don't buy much clothing in that color because I hate to impose. Would I buy her a pink AR? Nope, but I have the suspicion that a gun in Bengal tiger colors would drive her insane. You don't like pink? Don't buy it and demand that the manufacturer come with a gun in your favorite color. To each his or her own.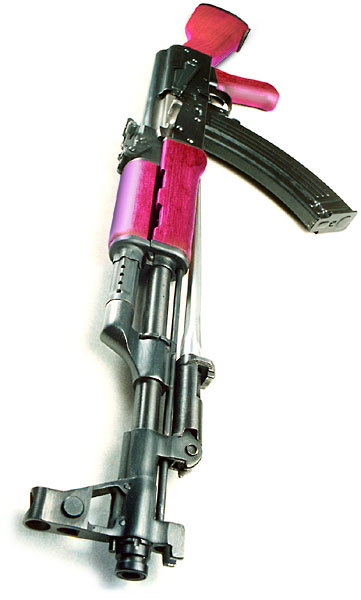 And of course, there are those of us that think a Pink AK should be banned just on bad taste. 🙂
PS: I refer to Gail as Pod Mistress. I know it evokes the idea of whips and other devices of control and that is why I use it. Gail has to record a podcast with the likes of Massad Ayoob, John & Terri Strayer, Steve Denney, Herman Gunter, Chris Christian and Mike Larney in a free-for-all format. The only way that the show does not run away from her is to keep that herd in absolute control. I heard rumors that besides the standard recording equipment, a bayonet, a whip, a taser and several cans of pepper spray are always at Gail's reach.
If you haven't check them out, you are missing on a great show. Search iTunes & subscribe for ProArms Podcast and enjoy!
PS2: Gail, when you read this and start plotting revenge and ways to flay me with you bayonet attached to your Glock I have bad news. I won't be going to the Florida IDPA State Match this year. 😛  So unless you make a trip all the way down here to Miami, you will have to wait till 2011. <evil laugh>