The expected moaning and groaning has already risen to full pitch.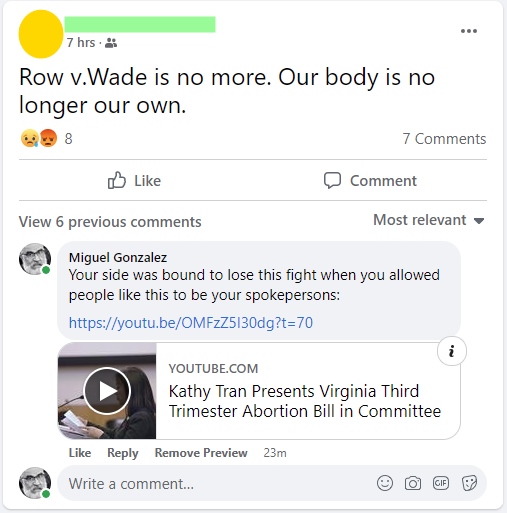 Name is blocked because she is a FB friend and a competitive shooter.  Yes, I make exceptions.
The clip from Youtube is spectacular in showing the callousness of some of these activists.
Pro Life activists lost all the ground they fought for because they allowed the nutcases to represent them. It has not been one or two crazy incidents, but a generation full of small things (directly related or not to abortion or not) that little by little eroded any righteousness the movement had and turned it into a mass-murder enterprise (both commercial and political)
The pendulum of politics always swings fully the other way if not policed.  I believe the rank and file Pro Life either did not care anymore about it because they felt safe or because they were afraid to be tagged as the enemy if they raised concerns about how far into criminal idiocy the new breed of Abortionists was taking the movement.
The Piper just issued a bill and it is collecting.
PS: The leak may have been overblown and edited for impact rather than truth. But it does still serve as warning.