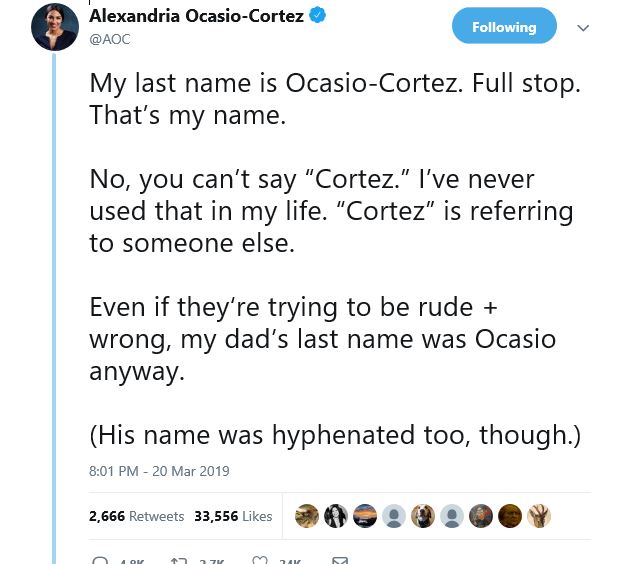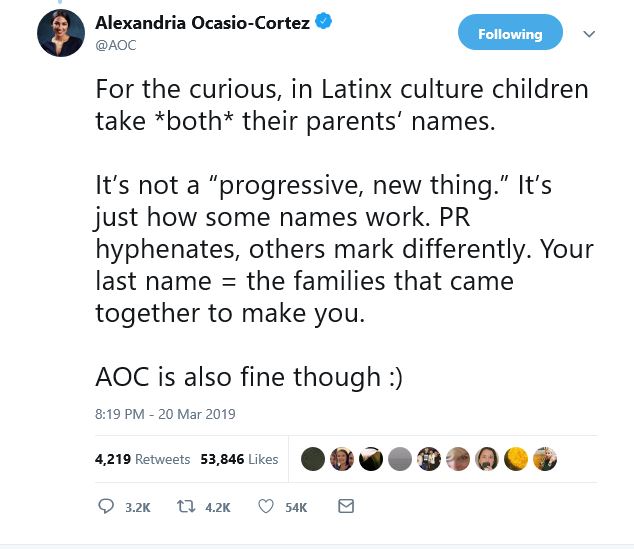 Let's begin with the obvious: There is no Latinx culture. There is a Latin Culture or a Cultura Latina. The "x" at the end shit is a stupid affectation that will get you slapped silly for being a conceited asshole in points south of the US.
The hyphen? Nope, not a Hispanic/Spanish/Latin thing. That is a Feminist thing for those women who wanted to be feminist but did not want to piss off their very rich husbands.
The way Hispanic Culture structures the full name of a person is :  First Name + Father's Last Name + Mother's Last Name.
For Example,  instead of John Fitzgerald Kennedy in the English custom. our 35th president would be John Kennedy Fitzgerald in the Spanish version.  It takes a bit to get used when you move and have to fill paperwork against what you have been trained and done for so many years.
Now, Dear Alejandrita is right on the Cortez not being the proper way to address her, the custom is to use only the father's last name so Alexandria Ocasio is perfectly right for the Hispanic/Spanish/Latin culture, Now, there is a section of people who culturally demand that people address them with all the names give to them by their parents and that is Royalty. Unfortunately for Alejandrita, she does not belong to the Spanish Royalty nor we give a shit and how they are supposed to be "properly" addressed. We she is conceited enough to think herself above the little people, but even Latin America got rid of their Royal influences, so fuck off with the airs of Regal Bitch,  Miss Occasional-Cortex.