Back on the Garland Shooting post, Exurbankevin made the point that we also needed to be the ones saving lives:
What would have saved more lives in Boston, a Glock, or Quikclot? Have a blowout kit within reach (Todd Green had an article on a very cool one the size of a deck of cards) and be prepared to use it.
What good does it do you to take down the bad guy, only to have your loved one lead out in front of you?
And that kiddies, is a great point.
I asked Facebook friends about what they had regarding First Aid kits that they carried with them or had very quick access. I was glad to see many people did indeed had some form of basic kit and a couple had some serious systems.
I am going to share their answers so you can decide on what to get if you don't have one.
---
Mark T. I have a zipper bag about 1/2 the size of a shaving kit that I put together. It has an 'izzy' bandage and tourniquet, some duct tape, a venom extractor kit, ace bandage, Leatherman tool, assortment of adhesive bandages, tube of antibiotic cream, some small packages of generic aspirin, ibuprofen, Tylenol, Benadryl, Motrin, Pepto tabs, and some antiseptic wipes. That should cover both major trauma a minor booboos. (I've found for personal use if it's not small enough to be easily carried, you'll end up leaving it at home.) When I did Executive Protection, we frequently carried a full backpack-size "FAT kit" including a defibrillator and other crap (due to most protectees being in the heart attack zone, age wise). I usually keep it in the car, or if hiking, in my pack Also forgot – compact CPR mask.
Erik O Sealed bag with an Israeli bandage, quik clot, gloves and a tourniquet.
Joshua S It's got: One 3.5oz QuikClot packet, Two TK4 Tourni-Kwik 40″ Self-Application Tourniquets, Two "H" Compression Bandage w/8″ x 10″ Ab Pad, Two Primed Compressed Gauze 4.5″ x 4.1 yards in size, Five 2″ x 4 1/2″ Adhesive Bandages, Ten 3/4″ x 3″ Adhesive Bandages, Two non-sterile 40″x40″x56″ Triangular Bandages, One 2″ x 100″ Combat Reinforcement Tap, One 4″ x 16″ Water-Jel Burn Dressing, Bacitracin Antibiotic Ointment, One 1/2 floz Povidone-Iodine Topical Solution USP 10%, One 10 pack of Water Purification Tablets, Katadyn Micropur, Sodium Chlorite.
I just keep my IFAK in my car and in my backpack when I'm not driving
Kevin C C.A.T. Tourniquet, Israeli bandage, Quikclot, gloves and a little Coleman 1st aid kit that I've stuffed with more bandaids (because young sons). My own kit: Mylar poncho, Israeli bandage, spare glasses, Quikclot, C.A.T. tourniquet, Coleman first aid kit (with a few extra bandaids), zip bag with pain reliever, anti-diarreal, allergy and cold meds.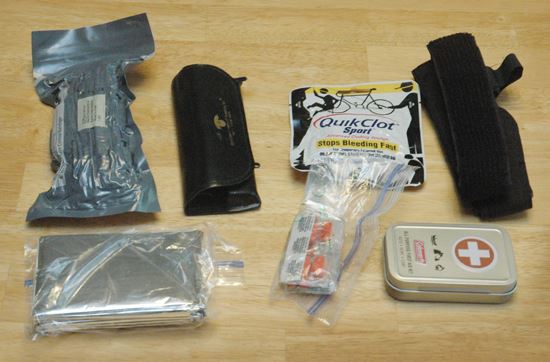 Robert K Blow out kits in my briefcase, range bag and truck bag. They contain large pressure dressings, CAT tourniquet, clotting agent, etc. Each one if the size of a Tom Clancy paperback.
Jon B Hikers first aid kit with stuff I need added (bandaids and drugs) – this is for boo boos Surplus IFAK with quickclot, tourniquet, etc – this is for OMG gonna die unless this gets done now.
What I lack is current training and practice.
Bradley L Mine is a simple homemade kit. 2 ea 4×4's, 1 2″ bandage tape, 1 3″ elastic wrap, 4 large band-aids, 4 small band-aids, 4 knuckle band-aids, 4 finger tip band-aids, 1 one hand tourniquet, 2 'new skin' wound covering jells, 2 packs of super glue, 2 army large wound coverings/wraps, and two packs of quick clot.
Every thing is in its own heavy-duty ziplock bag, and all of that is in another ziplock bag, and that is in a heat sealed bag. Nice and tight, and opening it up, does not contaminate everything. In a separate bag I have 12 pairs of sterile gloves, so I can get to the gloves without opening my med kit.
Marco R T I have a Tactical Tailor first responder bag in my truck full of supplies…from bandaids, to CAT's to SAM splints to decompression needles.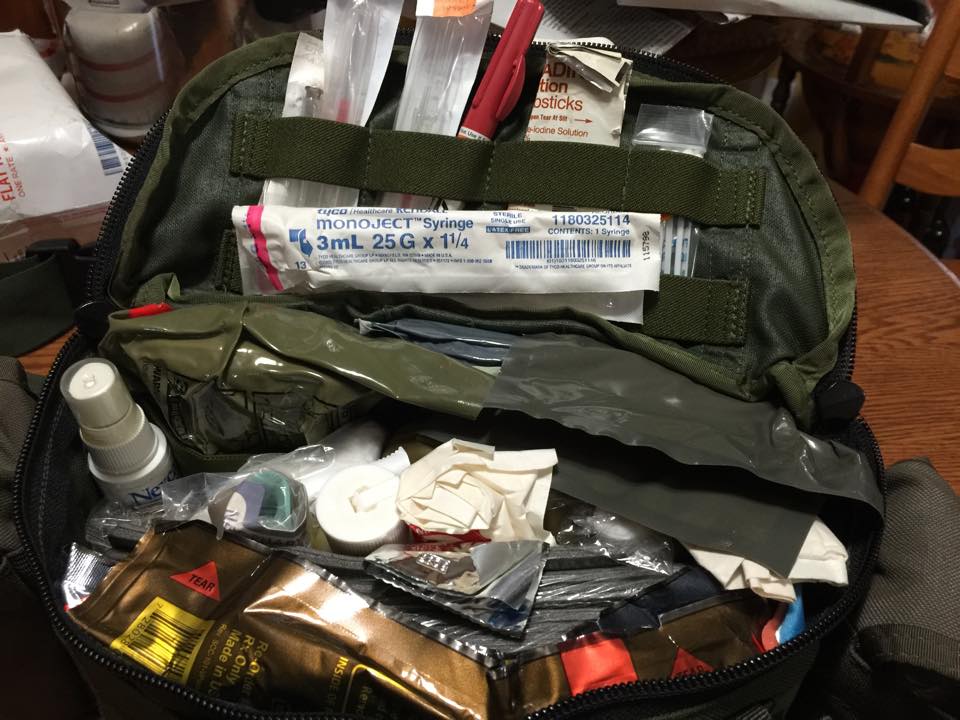 Jim K I've built a trauma kit for my B.O.B. and for family trips. Has splints, Israeli combat bandages (I like because they can be tightly applied with one hand) and Quik-Klot, both granules and the sponges. Gloves for applying the granules to larger, gaping wounds. Gloves because when the agent comes in contact with blood, there is a momentary surge of heat which must be compressed in order for the stasis to develop inside the wound. Yes it's painful to the patient, but only for a moment. But it can cause blisters to form on the hands of the responder. Hence leather gloves, not latex. I also have a portable stretcher that consists of a reinforced canvas pad that folds up and has strengthened hand holds along each side and the head & foot. It's a pretty comprehensive kit. I can handle most any emergency. I even have an Asherman dressing for a "Sucking Chest Wound." I also have tourniquet material, more dressings, burn gel, stuff for insect & snake bites, and all our prescription meds. Plus some basic OTC stuff for headaches and common illness, especially for giardia and diarrhea.
---
Personally, my basic/smallest kit is QuikClot, Israeli Bandage, several sizes of gauze, tape, gloves, bandaids, antibiotic cream, alcohol pads and over the counter meds carried in a yugo AK Mag Pouch. I carried that on my last job everywhere and never had to use it. In the truck I do carry a Cintas First Responder/Trauma Bag with enhancements that I added to treat bigger injuries (staple gun).
So, what should be the bare minimum? That will depend on your needs and I define that as "How long will it take Rescue to reach you or your injured and what do you need to make sure he/she is still alive?" Now, I live in an urban area with a damn decent rescue service and if they are not busy with other calls, they can be in my house in about 6-8 minutes, but since I am a realist I know that somebody will get injured on the day everything is gone to the dogs, so triple that: 24 minutes. Or you can go with the concept of the Golden Hour to be n the safe side.
I want to end with this article from Shooting Illustrated:  Shooter Self-Care: Providing Lifesaving Care. It has great tips, being the best of it GET TRAINING.
Feel free to comment and add recommendations in the comments.