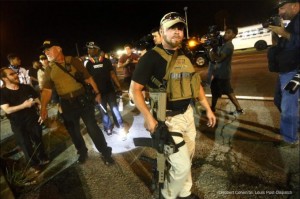 Rest safe citizens of Ferguson, the Oath Keepers are on patrol!
On second thought… this is EXACTLY the wrong kind of image to be center state in Ferguson right now.  I get it, there is civil unrest.  A year ago there was looting and vandalism and riots.  You want somebody to keep the peace.  But this isn't helping.
The reality as to what happened in Missouri a year ago are irrelevant at this point.  The narrative is in control this particular train and has the throttle wide open going into a dead man's curve.  As far as the media and the public conscience are concerned there are only three important facts: dead black kid, white shooter, militaristic response by police to social injustice.  Guess what, the media just can't wait for you to take a shot at another unarmed black kid to use you as an exemplar of the "racist, paranoid, white assault rifle owner."
Go away.  I don't care if you really were a Ranger or if you only played one online, you are fanning the flames and making the rest of us look bad.  And before you call me a hypocrite, the Koreans on the rooftops during the LA Riots were defending their business, not patrolling the streets looking like a Blackwater contractor guarding a VIP in the Green Zone.  Go home and get out of the spot light.  I don't want to lose my AR because you didn't know when to leave yours locked in the safe.