Still doing the cleaning and fixing to sell the house, so we invested in a pressure washer and trust me, it was the right thing to do.
We went with the Ryobi 2,000 PSI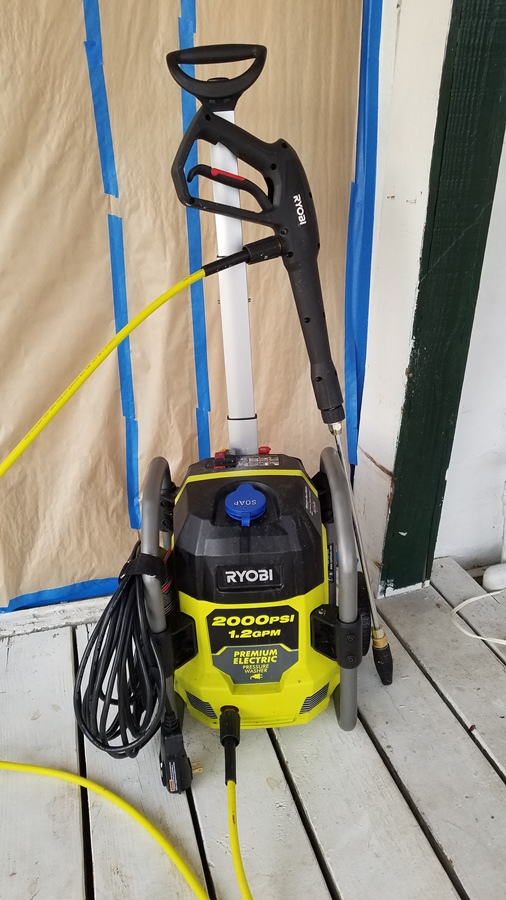 You realize how much grime you accumulate in your walls and floors after 20+ years of urban/suburban living till you remove it. This little pressure washer did the trick  very good with only a few complains. I sued it day before yesterday to clean the lake side of the house and the inside of the porch roof and it almost went back to the original white. The cascade of dirty water was both impressive and disgusting.
Two thousand PSI is the minimum I saw recommended for somewhat heavy work. I am still stripping old paint from the deck and this thing (with the tight tip) is doing the heavy work.  The telescopic handle and the light weight makes it a dream to move around. The soap container threw me for a loop:  It will not dispense soap unless it has the right tip which probably means internally it has some sort of pressure regulated valve that opens the flow when low enough pressure is detected. Anything higher and it just shoots plain water.
That black bulbous thing at the end of the gun is what Ryobi calls the Turbo Nozzle and I believe it will remove all your sins if placed close enough to your soul. I forget how long the electrical cord is, but is long for your regular household plus has a its own ground fault circuit interrupter plug. The pistol part is comfortable and it takes a long time of use for your hand to be tired. Lots of bronze and steel bits in all the needed places and looks and feels well done and solidly built overall.
Now what I do not like: The tips other than the Turbo Nozzle suck. It comes only with a 15 degree tip and a soap tip, both all plastic construction and performance that did not convince me. I bought an inexpensive set from Amazon that has variety and do a better job for under $10.
The other thing I hate is the hose. It is stiff and hard to deal with because it will not lose its material memory and wants to keep coils. You could probably drive a tank over it and not damage it, but it is a royal pain in the ass.
Do yourself a favor and also buy the Electric Pressure Washers Surface Cleaner, specially if you have to clean any flat surface over 25 square feet. It has two revolving zero degree tips that will clean whatever dirt flooring you face, but be aware that zero degree means it is a very aggressive cleaning and that soft surfaces that you d not want damaged will be. It is also fun because it wants to play hovercraft so it slides easy in any direction.
And that's it. Seriously, for the regular homeowner, this is a very handy power tool to have. It has other accesories including a foamer for car washing. You select what you need and play with it.
Here is the quick reference guide in case you want a bit more info.