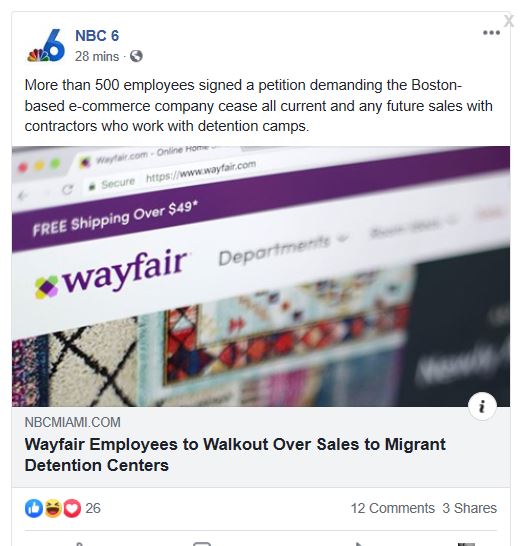 Hundreds of Wayfair employees are expected to walk off the job Wednesday to protest the online retailer's decision to furnish a detention camp for migrant children at the U.S.-Mexico border.

The workers are expected to walk out from their Boston headquarters at 1:30 p.m. and head to Copley Square, about a seven-minute walk away. Organizers are calling on employees who are based in the headquarters and remote workers to participate in the protest.
Wayfair Employees to Walkout Over Sales to Migrant Detention Centers
Why just a walkout? If you really feel for the cause, just quit. You do not need to be getting a paycheck from those morally corrupt filthy Capitalist, right? And not only that, that paycheck money you have been getting every pay period is tainted with the blood and tears of the poor immigrants suffering in concentration camps. That is worse that Judas' Thirty Pieces of Silver! What you must do is either return it to the company or donate it to an Immigrant Care organization. That you already spent the money? I am sure you can sell your belonging and at least partially use the money for good use. That you need to feed and clothe your kids? How dare you compare your Gringo-Privileged kids born in this country and enjoying all the benefits with the kids warehoused in the Treblinkas of Texas and Arizona!
Your cause is fantastic and you must be willing to make a real sacrifice, not just take half a dy off and go to Starbucks while you Instagram your Virtue Signaling.
/end sarcasm>