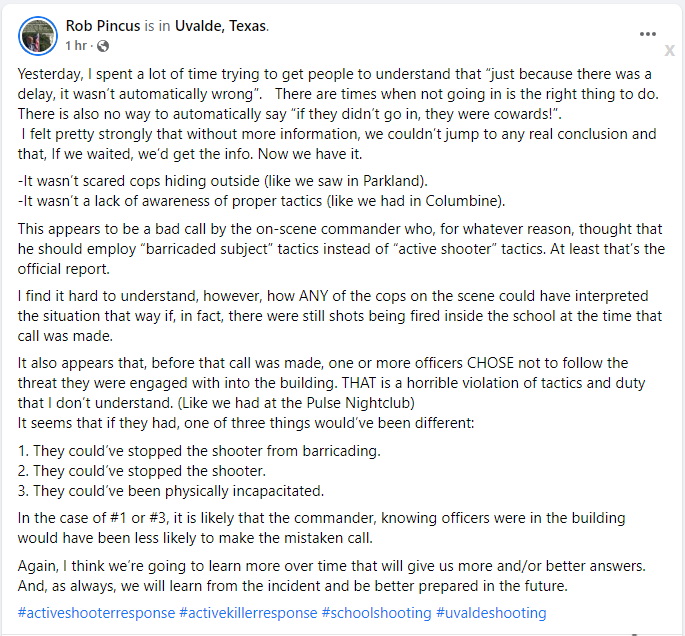 Yesterday, I spent a lot of time trying to get people to understand that "just because there was a delay, it wasn't automatically wrong". There are times when not going in is the right thing to do.
Uvalde was NOT one of those times
There is also no way to automatically say "if they didn't go in, they were cowards!".
Do please tell me what is the explanation for cops to stand around while children are being murdered.
I felt pretty strongly that without more information, we couldn't jump to any real conclusion and that, If we waited, we'd get the info. Now we have it.
And none of it favors the Uvalde Cops
-It wasn't scared cops hiding outside (like we saw in Parkland).
I guess they were waiting for the manicure to dry?
-It wasn't a lack of awareness of proper tactics (like we had in Columbine).
There were NO established tactics for active shooters implemented prior to Columbine. They came after that awful lesson.
This appears to be a bad call by the on-scene commander who, for whatever reason, thought that he should employ "barricaded subject" tactics instead of "active shooter" tactics. At least that's the official report.
They chose a scapegoat already? Everybody else skates free I guess.
I find it hard to understand, however, how ANY of the cops on the scene could have interpreted the situation that way if, in fact, there were still shots being fired inside the school at the time that call was made.
They were obeying orders because the on-scene commander declared "barricaded suspect." And no, that is not a fucking excuse, they should have said "Fuck you" and go in anyway like the Border Patrol Agent who eventually took out the Asshole Shooter Salvador Ramos currently roasting in Hell.
It also appears that, before that call was made, one or more officers CHOSE not to follow the threat they were engaged with into the building. THAT is a horrible violation of tactics and duty that I don't understand. (Like we had at the Pulse Nightclub)
Maybe they got lost or had to go pee or it was their lunch break. It could not be cowardice, right?
It seems that if they had, one of three things would've been different:
1. They could've stopped the shooter from barricading.
2. They could've stopped the shooter.
3. They could've been physically incapacitated.
No fucking shit, Sherlock.
In the case of #1 or #3, it is likely that the commander, knowing officers were in the building would have been less likely to make the mistaken call.
Or like in Pulse, they would have been ordered OUT of the building too.
Again, I think we're going to learn more over time that will give us more and/or better answers. And, as always, we will learn from the incident and be better prepared in the future.
Not from you, that is sure.