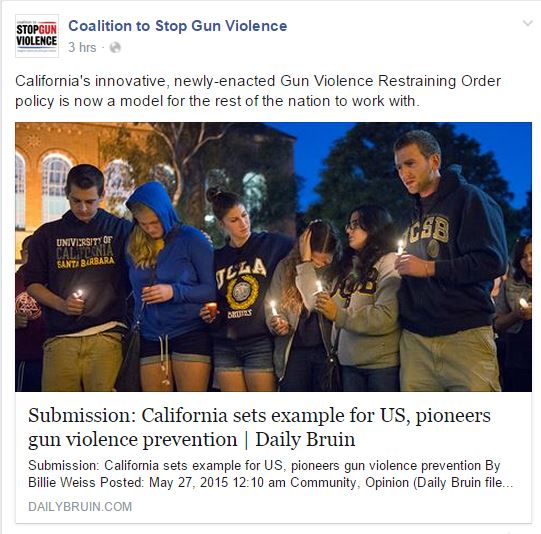 In California, however, we found a tool and legislators with the courage to pass legislation that has the potential to have a huge impact on preventing these and other similar tragedies. Assembly Bill 1014 will take effect in California on January 1, 2016, allowing for family members or law enforcement officers to petition for a Gun Violence Restraining Order against individuals who pose a danger to themselves or others. It is the first law of its kind anywhere in the country
Source: Submission: California sets example for US, pioneers gun violence prevention | Daily Bruin
Knock at the door.
-"Police, open up please"
-"Oh! Thank you Lord you guys are here. ."
-"Ma'am, Are you the one that applied for the Gun Violence Restraining Order?"
-"Yes. My significant other is acting weird."
-"Very well. Can you tell us where the guns are?"
-"The arsenal is in that cabinet there."
(Police removes 2 revolvers and a single shot shotgun)
-"Well, we are done. Thank you for calling."
-"Wait, where are you going?"
-"Back to the precinct. Our job here is done."
-"But I told you my S.O. was acting weird. Are you gonna do something about it?"
-"We did ma'am. You are safe from these guns we are taking."
-"That does not help. He is gonna go apeshit when he finds out the guns are gone."
-"You dial 911 if he gets too upset."
-"That is insane! he still can strangle me, stab me, cave my skull in with a hammer!"
-"But he won't be able to shoot you with these guns. That is progress ma'am. You should be thankful."
-"You don't fucking get it? I am still in danger!"
-"Ma'am, I would advice you to get a restraining order then and…"
-"…and call 911 if he gets too upset. Like that is gonna help. You know what? Forget about the Gun Violence Restraining Order. Leave me the guns."
-"We can't ma'am. They need to be removed for your own safety."
-"How can I be safe if I can't defend myself?"
-"We are the Police. We can't give you advice on how to do that."
-"You have to protect me!"
-"Actually ma'am. We have no duty to protect you. We only enforce the law."
-"This is insanity!"
-If there is nothing else, we need to get along. You have a good day."
The End?