Nothing fancy. No Smart TV or 4K – 5K definition. Just a 40″ 1080p  to substitute the one we have right now. Mom used a liquid cleaner not compatible with the screen and left a streak that has been progressing in size.  I hd some money saved, some eared given to the missus for her dental stuff and did my research and found a nice Samsung under $200 in Wallyworld. Perfect!
And then Beto opened his mouth. I went pavlovian.
Meet F.I.T. (Fake Irish Taco) that will go with the unused stripped lower that I had mentioned some time ago.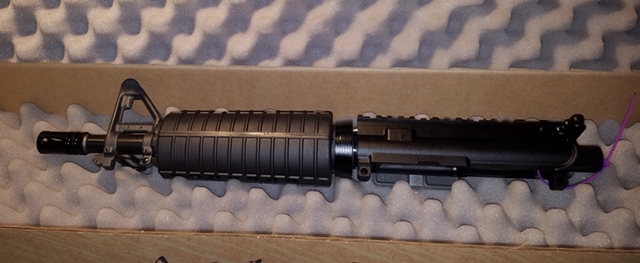 No brace just to avoid future hassles if they were to come.
Just don't tell the wife. I have to come up with an excuse to explain its presence. "It followed me home", It was dropped in our stoop in a basket but without a note", 'it fell of the nest and I couldn't let it die"…. something