This moving thing is a pain in the general sitting area and when it is not sucking up my time, I am too tired to think somewhat coherently.
So, we have a lot of stuff packed already. Boxes properly coded on what is what  and a secret list kept in a safe location. (Big notebook and two electronic documents… wait, three.)
Lots of stuff donated and already picked up which has given us space to move around and play a little bit of Tetris with the remaining items. We are actually almost down to just the basics of what we need to use every day. Even the side freezer should be unplugged this weekend as we have gone through the contents and moved the rest to the kitchen refrigerator.  And that would become another item ready for donation.
For the past week and a half, I started to take care of the outside of the house. The front needs a good wash and fix a couple of cracks decorative cracks to be ready. The front "lawn" is a mess of dry grass and patches of dirt that we never care much for since the utilities kept digging and making a mess because the job was not done right the first time. Also the HOA is responsible for its maintenance (you can stop laughing now) and mom was truly the one patient enough to deal with it. I have a trick up the sleeve, but I'll share later.
The biggest selling point of the house is no doubt the lake which makes the back porch a must to fix and clean. You saw in past post the exposed deck being stained/painted, but I had not had the chance to do the covered part till now.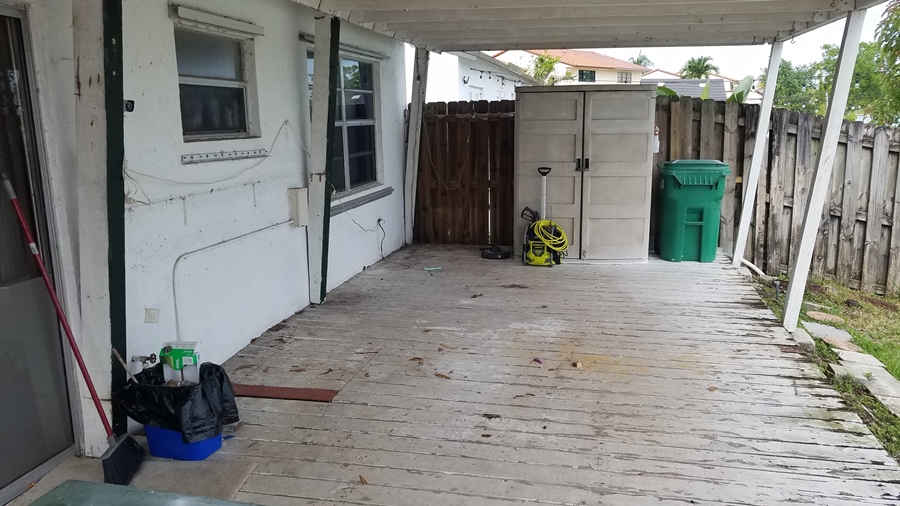 I just finished clearing all the crap we had accumulated, moved the furniture, removed a couple things from the wall and I am ready to pressure wash the dickens out of everything.  Roof will go white same as the columns and the floor will go with that reddish color the missus chose for the exposed deck. Some small repairs were done as I saw them and I figure I am not done yet. The hardest part is to think not in term of overengineering the fix, but to remember I am doing mostly a good make up job on something that it is in great condition. Do not aim for the cover of Better Homes and Gardens.
I am gonna do early lunch, rest some and get started.
See you guys later. Have fun. Harass J Kb.