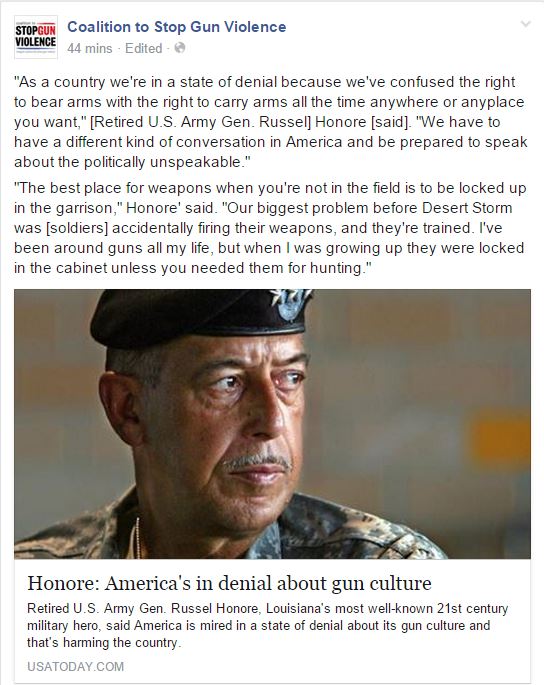 "The best place for weapons when you're not in the field is to be locked up in the garrison," Honore' said. "Our biggest problem before Desert Storm was (soldiers) accidentally firing their weapons, and they're trained."I've been around guns all my life, but when I was growing up they were locked in the cabinet unless you needed them for hunting."Honore also said he disagrees with those advocating for military men and women at recruitment offices to be armed. Some armed civilians have taken it upon themselves to stand guard at recruitment locations since the mass shooting at a Tennessee office this summer.
Source: Honore: America's in denial about gun culture
And he says this after five servicemen were killed by that Jihadist wannabe in a Military Gun Free Zone. It boggles the mind that a General, somebody who is supposed to care for his troops would go along with the idea that being defenseless is better.
But unfortunately, there is a real reason. I'll leave Kurt Schlichter to explain it:
So why would a commander not order troops who have qualified on their M9 pistols to draw sidearms and ammo and carry them during their duties, at least until this crisis passes? Perhaps their discretion has been withdrawn from higher command – that's possible, especially with this toxic administration. But more likely it's because of fear.It's the fear that some solider is going to have an "incident" carrying a weapon, and that incident is going to lead to questions, and in an environment where the Armed Forces are shrinking, the mention of an incident on an officer's annual evaluation report can mean the difference between a career and a pink slip. It's the same zero defects mentality that is keeping our military leadership from being an audacious, aggressive band of warriors and morphing it instead into a timid, passive pack of timeservers.
Source: The Real Reason Our Troops at Chattanooga Were Unarmed Is Absolutely Infuriating
Our Military is now in the hands of what troops call Chairborne Rangers, timid men with an absolute obsession to have a spotless career and have their ticket punched without incidents so they keep advancing. Sort of playing Candyland with the lives of our service people who would be sacrificed in the name of political correctness rather than do what they are supposed to do: Kill the enemy, destroy their stuff and win wars.