From the girl that carried her AR-10 to graduation comes this Tweet.
Thank you New York for being so awful that I can't even protect myself with my handgun in your crime-ridden city 🙃 At least your pizza is good though pic.twitter.com/Qr7Qp8g3Hc

— Kaitlin Bennett (@KaitMarieox) June 26, 2018
I feel exactly the same way.
Last time I was in NYC, which was for a friend's wedding, a buddy of mine and I were "aggressively panhandled," which is an NYC euphemism for having a crazy homeless guy follow you for a couple of blocks screaming at you and demanding money.
Well the people of NYC reacted to this exactly as my prejudices made me think they would.
Yep, she dared criticize The Greatest City on Earth™ and that makes her a hillbilly, pariah.
I hear all the time New Yorkers who mock, criticize, and make fun of the South.  People who have never been here and are very proud that they will never come here, talk about us like it's still 1962.
Nothing but seething and relentless hate.  But if one of us Flyover Bumpkins dares to speak ill of them, we're not welcome.
Of all the Tweets I saw, this one is by far my favorite.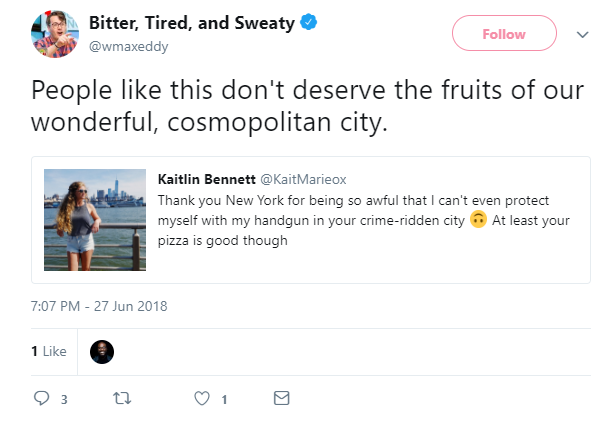 To that asshole, I say he doesn't deserve the fruits of Middle America.  By that I mean almost all the food he eats, the coal that drives the power plants for the electricity he uses, the gasoline that powers the cars he rides in, the cotton in his clothes, and anything domestically manufactured in the US.
I hope he can live off TV, financial services, and smug.