From The Daily Mail:
Inflation rate rises to 5.4% – matching the 13-year high set this summer – as meat prices jump 10% and gas prices soar 42% from a year ago
The consumer price index rose 5.4 percent in September from a year ago, up slightly from August's gain of 5.3 percent and matching the levels seen in June and July.
Excluding the volatile food and energy categories, core inflation rose 0.2 percent in September and 4 percent compared with a year ago. The core inflation number hit a three-decade high of 4.5 percent in June.
The big take away of this article is this infographic: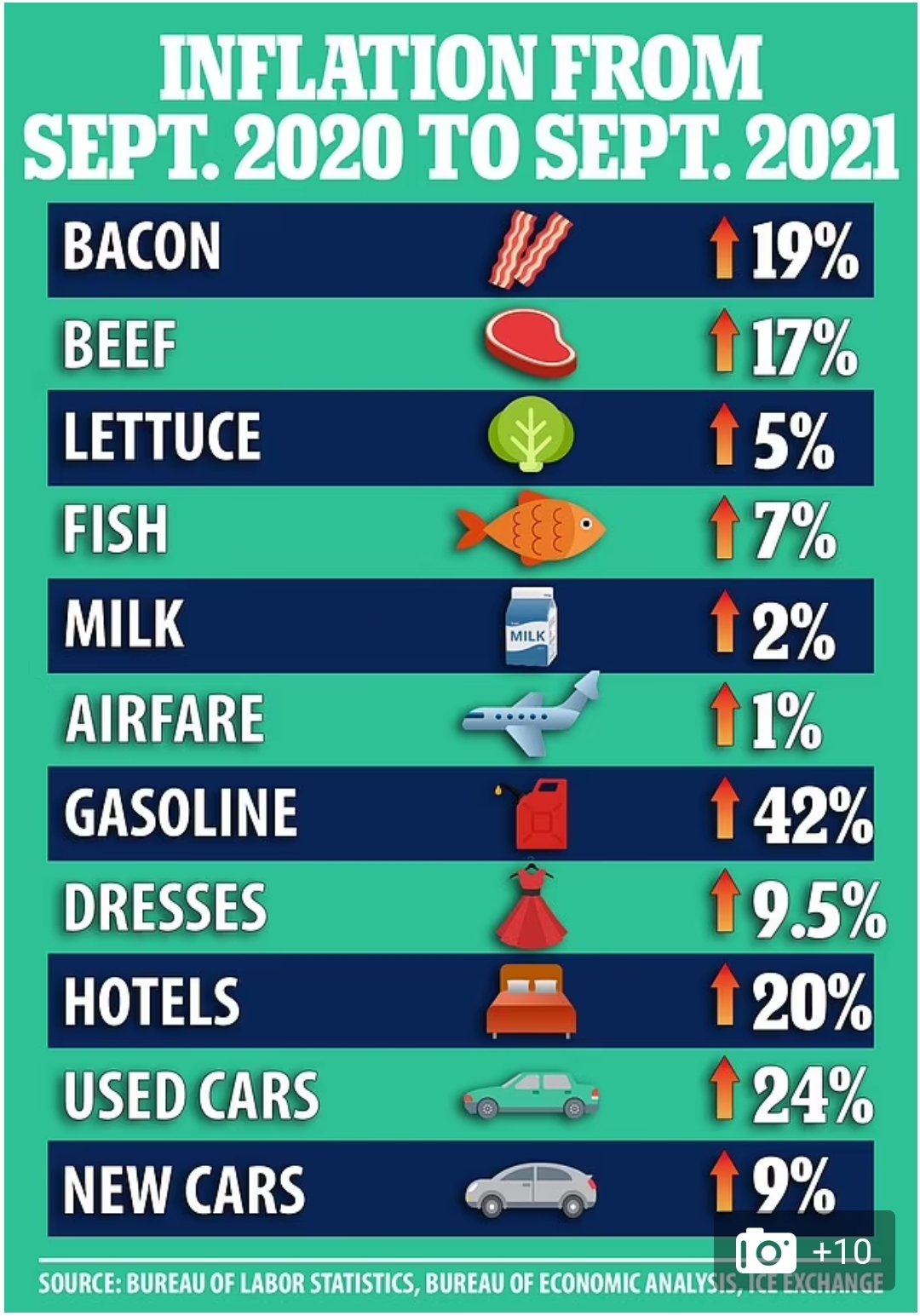 By midterms next year, going to a chain restaurant for a burger will be  $20 and a steak is going to be a luxury $40 item.
Applebee's is gonna be like Ruth's Chris.
We're going to go back to home tailoring clothes and turning every last bit of leftovers into a casserole like our depression era grandparents.
It's going to suck something fierce.
Don't worry, according to Bloomberg, that's good.
America Needs Higher, Longer-Lasting Inflation
The benefits of moderately rising prices and wages outweigh the costs.
All of this has economists and central bankers dutifully poring over data for signs of when or whether inflation, currently just under 4%, will drift back toward the Federal Reserve's target of 2%. Instead, they should be considering a more fundamental question: whether the Fed should strive to make 4% inflation permanent.
Inflation — particularly when caused by sharp increases in a few products — is politically unpopular. A modest sustained increase in prices and wages, however, would create a more stable U.S. economy by improving debt dynamics and giving the Fed more flexibility. In an uncertain world, those two advantages make higher inflation more than worth it.
Sure, you lost the ability to grill burgers or have a BLT at home whenever you want as a middle-class American.  You're rationing out food, reusing your coffee grounds, and have given up on a road trip to grandma's this year because you can't afford the gas, but that's a good thing because the Fed or something, something, you don't understand because you don't have a degree in monetary theory.
Welcome to the Great Deprestagflation, and your suffering is good for the nation.  You don't understand why but it is because some Wall Street shit-weasel said so.