If you are not into Sci/Fi-Fantasy books or followed the Sad Puppies Saga, the following is pretty much Chinese spoken by a drunken Magyar.  You can go ahead and ignore the rest. If you are somewhat interested and want my Reader's Digest version, go on ahead.
First my credentials: I am not Treufan. My SciFi lot is filled with 2001(book and movie), original Star Trek, the new Star Trek movies and Babylon 5. That's it. I tried to read Heinlein and bored me. Dresden Files are OK when I have nothing else to read and can get the paperbacks in Amazon for under a buck. I am a fan of Larry Correia's books which apparently classify under 'fantasy' in this Hugo Award and therefore I am a Sad Puppy.
Now, the Social Justice Warriors clique (SJW) could have avoided this whole issue by simply addressing the concerns about why some deserving authors never got nominated, much less won the Hugos by simply saying "Holy shit, we really should look into this" and maybe take all of 10 minutes to see if such concern was right. Now, we know that indeed some decent writers were not considered for apparently purely political reasons: they personally did not fit the official groupthink of the SJW Clique and that was the base of its lack of selection, not the work itself. But even if you do not agree with the person, you are not supposed to judge the book by anything else but its content, period. But instead of maybe changing just a bit and grudgingly accept that "Yes, Mr X is an asshole in RealLife, but damn his book is good" the SJW clique went full stupid: On year one, they laughed at the accusations and dismissed the complainers as brutish, ignorant and jealous individuals. On year two when the Sad Puppies got somewhat organized and managed to squeeze one nomination, they proceeded to crap small bricks but refused to review their practices. On year three, Sad Puppies did the unforgivable: They swept the nominations.
Oh dear gods of the pantheon! You would have thought the Barbarians broke into the Vestal Temple and proceeded to rape the curtains and burn the Virgins. First came the accusations of ballot stuffing which went down in flames when it was pointed out that the rules for nominations were followed to a fault. Then it came the generalized accusations of "gaming the rules" to introduce a "Conservative, all-male heterosexual, redneck, icky" slate which died under quick examination of the slate as it was actually more varied in every concept than previous Hugo nominations. Then it came to be that the works were not true SciFi/Fantasy or did not conform to what SciFi should be, but somebody just pointed out that previously nominated works like If You Were A Dinosaur My Love and the whole cookie went down in crumbs.
But something was puzzling the SJW clique: After all the attacks, the Sad Puppies not only were not cowed, they had the balls of actually laugh at them! How dare they! So they went even stupider attacking individual authors. Larry Correia is an official White Anglo-Saxon Supremacist (I reckon that you will find the Portuguese last name in the Mayflower list), death threats were issued which is funny as hell when Larry is the size of a shoggoth, knocked down cows for fun a-lo-Mongo in his youth and is a firearms instructor with possibly more guns and ammo in his basement than many police forces in rural America…and some urban areas too. They also went after Sarah Hoyt with the same chant, but oops! She is a half Portuguese immigrant..and female.
But what takes the big prize was when the same White Anglo-Saxon Supremacist label was applied to Brad Torgerson, who happens to be married to a black lady for over 20 years and they have a child together. Now that should have killed the accusation right there, but one jackass under the name of Arthur Chu actually tweeted this: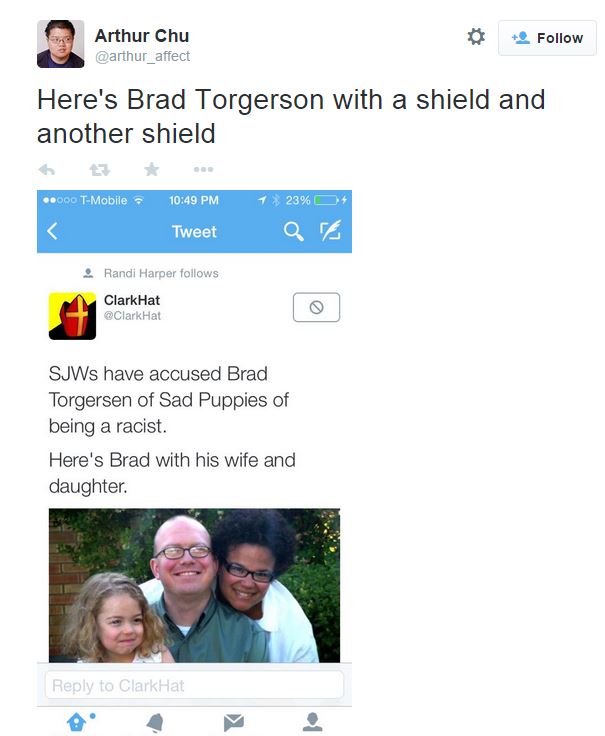 "Shield" is a term the SJWs use to dismiss any racist defense a person may have from an accusation issued by the SJWs just because the accused actually may have friends that are minorities. But in this case Chu applied the term to a married couple and actually wants people to think that in preparation for Sad Puppies 3, Torgerson somehow decided to take a bride of a different race two decades ago. The shark was not only jumped, but rocket packs were used to achieve maximum apogee.
By then, everything went so crazy that even some famous names got in the frackas. George R.R. Martin (Game of Thrones) penned a long blog post criticizing (very politely) Sad Puppies, but wouldn't you know that Larry Correia had the nerve to reply to him (also very politely.) Martin addressed Correia and the masses went wild with joy at their champion. Correia not only replied but fisked Martin to the amazement of the SJW faithfuls who could not believe somebody would dare to look at their god in the eyes and not turn into ash.
After one more post (I think, there was so much crap going around that I can't keep track) from Martin declaring the death of the Hugos by the hand of the Sad Puppies (Funny shit that happens when you play by the rules they were playing and the outcome is not what the SJWs wanted) the SciFi world seemed to come apart. The initial grumbles of going No Award in all categories (basically saying, nothing is good, vacate this slot) which were dismissed initially are now chanson du guerre by a lot of SJWs. Basically, if we can't win, nobody wins! And even some are demanding that the Hugos be cancelled this year and any year when non-SJW-approved works are in the slate. Sunshine, let me tell you: You proved the Sad Puppies point with neon lights and fireworks. You guys are indeed a very reclusive, extreme prejudiced group of morons who refuse other kids to play in the sandbox called Hugo Awards. You lost.
The Puppies won.
Deal with it.