It is true, some people recoil at the sight of a knife outside the dining table. I get that there is some deep cultural distrust about the blade that goes back centuries when people had to see animals and fellow humans deeply cut by sharp objects and the sight of this cuts are rather disturbing, but as always, the darn thing does not cut by itself and it does not matter if you read about a the legend of cursed Samurai sword.
(Warning: Rehashing old story up ahead)
When I worked in a hotel, I was usually tasked to be the First Aid provider for guests and associates so I got to deal with a lot of small cuts and wounds that only required a cleaning, maybe some antibiotic ointment and a band aid. The problem was the ointment that came in an individual serving bag just like ketchups's and it was impossible  to open wearing gloves. I started to use my EDC folder to defeat the bags, but I noticed some of the guests recoiling at the sight of the regular blade. Even my boss made some grumbling comments, but he understood some sort of knife was necessary for the job and I had the training.
What I did was to look for a smaller knife that was not a gimmick and it may be a bit more palatable to the guests. After a bit of search and a dose of blind trust, I spent $30 on a Boker Subcom Wharcom.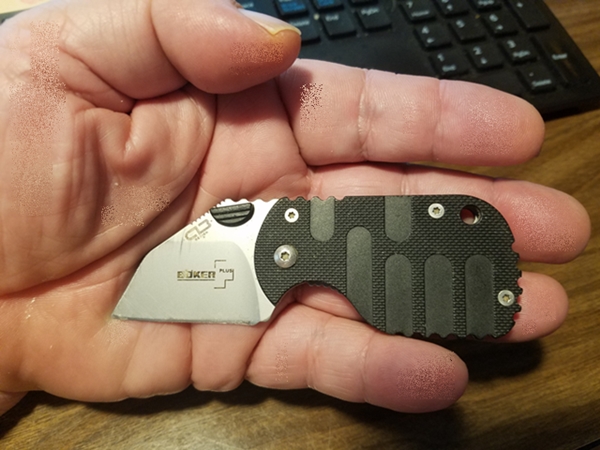 It is a strong little blade, a workhorse. This is actually my second Subcom since the first one is now retired after a full decade of use and abuse. This particular model with the Wharncliff  blade is almost impossible to find and if you do and have a heart, I am willing to hear a decent offer for your discovery.
I had almost no negative reactions from guests after that. A few actually found the blade cute and a an even some wanted to buy it outright from me. Nein! The only other strong negative reaction I had was a new creature in HR who asked me to help her open a just delivered box of office supplies. I pulled by Boker and she actually gasped in partial horror, "You are not supposed to have that at work!" I looked at her and I said she was right and left her office, box unopened.
The knife is the second tool human's created. A sharp blade should be as usual as breathing and yet is treated like tuberculosis… or the Black Plague if you are in the formerly Great Britain.  I bet you find yourself at least once a day trying to open some sort of package or bag or simply separating two items by sheer strength or you are forced to look for some sort of tool to do so. Have some sort of utilitarian knife, because you are wasting time and effort for no good reason otherwise.