Well, according to what they keep accusing us of, this last post in Facebook gets the sobriquet: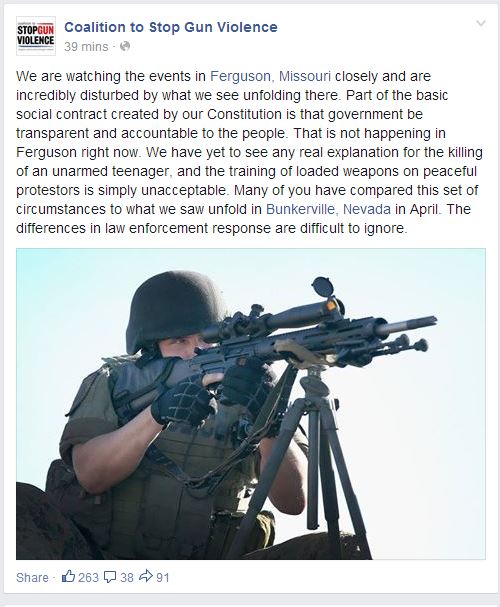 So they finally see the dangers of an unchecked government. The Luddites (Followers of Ladd Everitt) are suddenly more papist than the Pope:
Josh Mitchell And white people never have to worry about the police violently dispersing their peaceful protests. White people had plenty of protests during the Iraq war and you never saw military weaponry being deployed in their residential areas. The people of#Ferguson deserve not to be treated like prisoners in their own homes.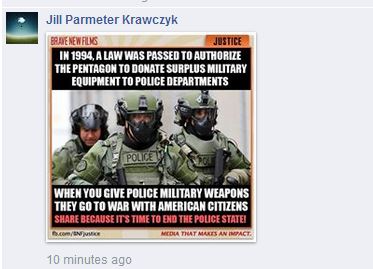 Isaac Smith I watched it on TV and I could not believe my eyes, this is America not Cairo or Kiev. Who ever order the Police to respond like that needs to be fired.
Don Bevirt Welcome to the machine…
Vicki Ross The people in your community must not be treated like the enemy by local police!!!!!
Glenn Thompson Thanks for being for the new police state. Be careful what you wish for Melissa
Dan Moore It has nothing to do with hanging someone. The whole point is that peaceful protestors were attacked by heavily militarized police and now they are arresting reporters trying to cover the story. Do you not understand the necessity of a free press, or are stormtroopers attacking citizens OK with you?
Charles Perry Taylor What are these law enforcement people thinking….escalation!
And there were a couple of comments on the following vein:
Salvador Santibañez Sánchez But why the well armed right wing extremist at Bunty's ranch got away while threatening local and federal law enforcement officials? Why they didn't send the helicopters, armored military style vehicles and the riot police with tear gas? Why? WHY? Can someone please give me an explanation?
If you cannot figure the answer….
Get your Schadenfreude for a low payment of $9.95…but wait! If you call in the next 30 minutes, you get a free jar of Thick Irony! (You only pay for shipping and handling)