A young woman named Tess Thompson went on a trophy hunt in South Africa for a giraffe.
It was 18 years old and aggressive, having killed three other young male giraffes.  The giraffe was a Southern Giraffe, which are not rare, and in fact are increasing in population because they have become a profitable trophy species.  The hunt was conducted legally, 2,000 lbs of meat was donated to locals, including an orphanage, and everything was kosher (including the giraffe).
All around, it was a good hunt.
The Leftist asshole media and asshole celebrities proceeded to attack this girl for hunting.
Cosmopolitan magazine all but doxxed Ms. Thompson. Kentucky Woman Defends Killing "Vulnerable" Black Giraffe, Says Safari Hunting Trip Is "Game Management."
People and The Today Show got in on the criticism.
Ricky Gervais, who is a piece of shit, Tweeted this:
What's 16 feet tall and has a cunt on the back of its neck? https://t.co/nyCzHO0tuz

— Ricky Gervais (@rickygervais) July 2, 2018
Debra Messing made a post that was stupid and overly emotional: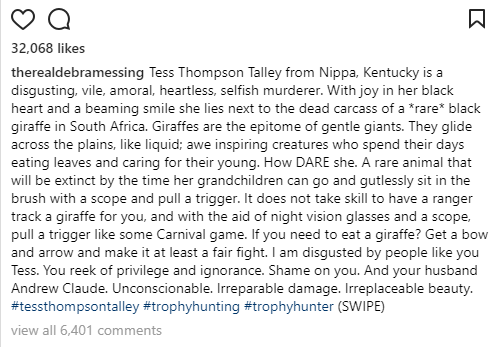 Giraffe are even-toed, cud chewing, ungulates.  They don't "glide across the plains like liquid."  They also fight to the death over breeding so they aren't "gentile giants" either.
So much for punching up and not attacking women and all that social justice bullshit.  When a woman hunts with a rifle, all the ugliness comes out.
What made this story viral, however was a Tweet from a racist, anti-white, South African news service called Africaland Post.
White american savage who is partly a neanderthal comes to Africa and shoot down a very rare black giraffe coutrsey of South Africa stupidity. Her name is Tess Thompson Talley. Please share pic.twitter.com/hSK93DOOaz

— AfricaDigest (@africlandpost) June 16, 2018
But we haven't gotten to the stupid part yet.  We're still traveling down the rabbit hole.
In the comments on the AfricaDigest Tweet I found the stupidest thing I've ever seen on the topic of hunting, ever.
Hunting is not for conservation. It's so hunters can shoot & savagely kill majestic animals for sheer pleasure and the thrill of watching it die.

Neither is hunting an industry

I'd rather support poaching where poachers risk their lives to support themselves their families…

— Maggs Naidu ᅠᅠᅠᅠᅠᅠᅠᅠᅠᅠᅠᅠᅠᅠᅠᅠᅠᅠᅠᅠᅠᅠᅠᅠᅠᅠ (@maggsnaidu) June 18, 2018
This guy would rather the animals be poached than legally hunted because poachers are … down on their luck people just trying to feed their families?
The reality is that poaching is organized crime to feed wealthy Chinese, and other south east Asian customers with useless folk remedies that cost more that gold plated cocaine.
But this shit-for-brains doubles down.
Poaching proceeds go directly to the surrounding communities who are otherwise destitute…

— Maggs Naidu ᅠᅠᅠᅠᅠᅠᅠᅠᅠᅠᅠᅠᅠᅠᅠᅠᅠᅠᅠᅠᅠᅠᅠᅠᅠᅠ (@maggsnaidu) July 4, 2018
No it doesn't.  Licensed hunting does that.
This is the level of stupidity that we are up against.
I am thoroughly convinced that this is an extension of the Socialist hatred of profit.  They hate when other people make money (they love their own money, they just feel guilty about it).  They feel as though profit sullies things.  That trophy hunting makes money for local Africans and protects the animals actually makes them angrier.  The Animals should be free from profit, somehow and for some reason.  Protecting the Animals by making it economically worthwhile through trophy hunting licenses is less noble to them.
From US magazines to American and British celebrities to assholes online, people who put feelings about hunting above facts attack hunters in the most vicious and nasty ways.