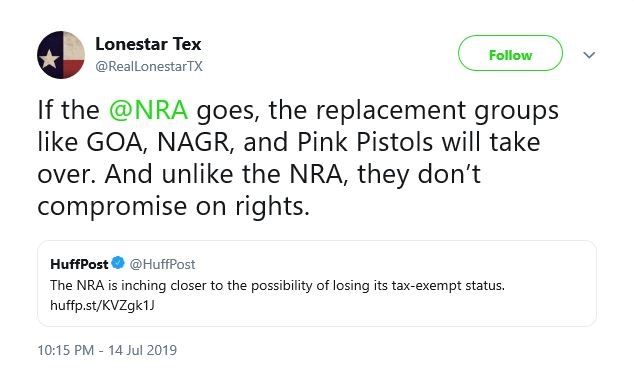 There is so much stupid and ignorance concentrated in this tweet, I can't process it without a welding mask.
Sorry, but GOA has an impressive batting record in Congress like mine at the plate: Big fat zero. If you don't know this, you have been ignoring what's have been going in congress for the past decades. Allow me to quote from their Wiki page:
Gun Owners of America was founded in 1975 by the NRA board member and California state senator H. L. Richardson when legislation to ban all handguns was introduced in California.[8] Richardson continues to serve as the chairman of Gun Owners of America. Richardson also founded Gun Owners of California, which deals specifically with gun ownership rights in California.[9] GOA's current executive director as of 2018 is Erich Pratt, son of the previous director Larry Pratt, who also hosts GOA's audio webcast, Live Fire.
So how's California doing on gun rights? So not very effective, are they?
The National Association for Gun Rights has been from the get-go what appears to be a suspicious fundraising tool for a noble cause: Dudley Brown's pockets. They talk a tough talk, but they are worse that GOA just because they actually fucked up favorable legislation the few times they have intervened. I do believe there is still a "shoot on sight" in Colorado after NAGR screwed up the loosening of the Magazine Cap limit law in the state.
Pink Pistols as fantastic as they are and have my support, they are not a Lobby group, nor they have the numbers.
And please notice that the author fails to mention the Second Amendment Foundation who actually goes to court and gets bloodied fighting Second Amendment cases. But lawyers in bow ties do not look tactical and must be laughed and ignored.
Now, none of this is new. This is on the record for many years now but we have Gun Culture 3.0 that only gets information via memes and tweets forsaking any depth and accepting it as if they were the tablets brought down from the mountain by Gaston Glock.
We are seriously screwed..