First is ALDI USA:
At ALDI, the safety of our employees, customers and the community is our highest priority. Alongside many other businesses, we are asking that our customers refrain from openly displaying firearms in any of our stores, except for authorized law enforcement personnel.

— ALDI USA (@AldiUSA) September 9, 2019
The other is Meijer:
The safety of our customers and team members is our top priority, so we respectfully request that our customers do not open carry firearms at Meijer. We've made this decision because open carry can create an environment that makes our customers and team members feel unsafe.

— Meijer (@meijer) September 9, 2019
Meijer hits close to home because I love Meijer.  It's a big box store like Wal-Mart but the food is good, the quality of the merchandise is great, and it's overall classier.  I'd give anything for a Meijer in Huntsville.
Just take a Gander into some of the responses to these Tweets: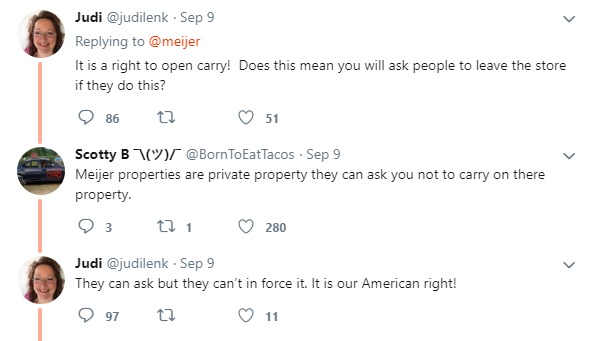 Oh, they most certainly fucking can.

These are both private sector companies,  they don't have to respect your Second Amendment rights on their property.
Here is the thing.  Meijer was my favorite place to do my regular weekly shopping trip when I lived in Illinois.  In Illinois, any business can ban concealed carry by posting the 430 ILCS 66/65 sign on their entrance.
And before any internet chest thumpers who do not live in Illinois say "but that doesn't have the force of law" go read the statute.
Except as otherwise provided, a licensee in violation of this Act shall be guilty of a Class B misdemeanor. A second or subsequent violation is a Class A misdemeanor. The Department may suspend a license for up to 6 months for a second violation and shall permanently revoke a license for 3 or more violations of Section 65 of this Act. Any person convicted of a violation under this Section shall pay a $150 fee to be deposited into the Mental Health Reporting Fund, plus any applicable court costs or fees.
You walk past a 430 ILCS 66/65 sign with your gun and you get caught, it's a Class B misdemeanor.  Illinois doesn't fuck around with that.  The last time I was in a Meijer in Illinois, they hadn't posted the signs.
So go ahead and test ALDI or Meijer and their open carry policy.  See what happens.
I can tell you what will happen, they will decide it's not worth the trouble and will go Target on us and become gun-free zones, banning open carry and concealed carry.
Then you will have screwed over every gun owner in Illinois, whose ability to carry concealed sits on a knife-edge and the goodwill of corporate management.
Yes, you have the right to open carry.  I support that right.  But when you abuse that right and scare the mundanes, you hurt the rest of us when you force companies to react.