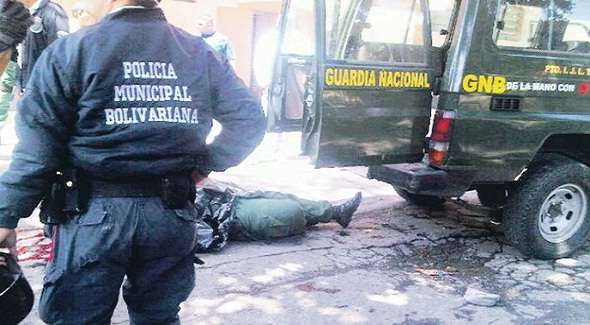 Caracas .- With the murder of José Ramón Vegas (37) Detective of the Investigation , Scientific, Penal and Criminal Corps, it rises to 112 the number of police and military officers who have died in violent incidents in the Greater Caracas in course of 2015.

(note: the military mentioned in the article refers to the National Guard which in Venezuela is used as nation-wide police force . The equivalent of ICE in the USA.)
Source: The number of policemen killed so far this year stands at 112 – Events
Greater Caracas is the city itself and its immediate towns and suburban areas. The population is estimated to be around 5.3 million and since there is no direct US equivalent, we will use New York City's Manhattan, Brooklyn and Queens since the population in those three borough add up about the same as Greater Caracas.
Now imagine that from January 1st till October 21st, a total of 112 NYPD were murdered in the line of duty, most of them purposely targeted. Mayor De Blasio and Governor Cuomo would have invoked Martial Law, sent the National Guard and probably raze half the city searching for the killers.
Almost three years after the imposition of the most complete and draconian Gun Control laws on this side of the Atlantic (including no sales of new guns to the civilian population), Venezuela now is the second country in the world in murders, with a rate of 82 per 100,000 people or 24,980 murders (Venezuela's population is 33.2 million, 10% of the US.)
But we are supposed to accept the Gun Control Experiment, failed everywhere else, because the Shannons and Bloombergs and Everitts swear on a stack of corpses that it will work here…because magic.
Somehow I don't feel comfortable with that lot issuing checks with their mouths that we will end up cashing with our lives.