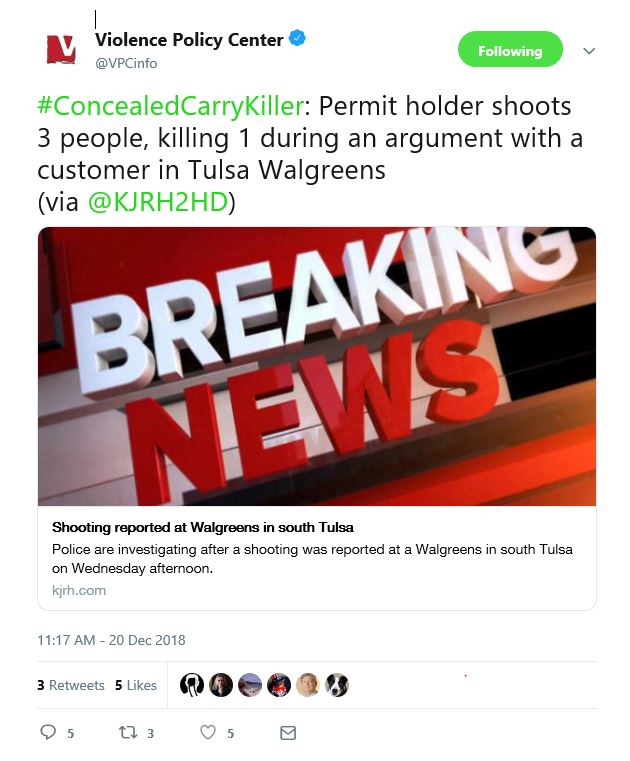 Oh My God! One of them rednecks with guns lost his shit and started to shoot people just because they were arguing! Concealed Carry is bad! 
Except that the truth is a wee bit different.
TULSA, Oklahoma – Tulsa Police say the man who was shot and killed by a clerk at a Walgreens Wednesday afternoon was William Hurley, 52.

Police say the incident happened at the Walgreens at 71st & Lewis at about 4 p.m. on Wednesday, December 19, 2018. Police say the store's surveillance video confirms what witnesses told them.

They say Hurley got into an argument with a clerk at the photo counter about some photographs. Hurley pulled a gun and jumped over the counter taking the photographs in question from the clerks who attempted then to call police, according to TPD.

Hurley then came back over the counter.  The 28-year-old clerk, who had a concealed carry license and was armed, pulled his own gun and shot Hurley.

Police said it appears two of his shots also hit two bystanders who were standing behind the deceased. …

According to the Department of Corrections, Hurley did time for forgery and bogus checks during the 90s and for drug possession in 2007-2008.
Police Identify Man Killed By Clerk After Pulling Gun At Tulsa Walgreens
So, we have a felon armed wit a gun jumping over the counter to very possibly attack the clerk with a CWP who shot him.  But is the attacked clerk who is the bad guy in this scenario because he had a permit to carry.
And that is how the minds of our enemies work.